You have been redirected from paterva.com. Maltego.com is the new home for all information regarding Maltego products. Read more about this in a message
from the Paterva team
and in this
blog post
and
FAQ
.
CipherTrace
By CipherTrace Inc.

Cryptocurrency Intelligence for Maltego
CipherTrace provides powerful and easy-to-use cryptocurrency tracing for investigators and researchers. The CipherTrace Maltego Transforms support the following cryptocurrencies: Bitcoin, Ethereum, Bitcoin Cash and Litecoin.
With the Maltego Transforms for CipherTrace, investigators can access advanced CipherTrace Cryptocurrency Intelligence combining millions of attribution data points from open source and private intelligence into Maltego.
This enhanced platform enables investigators to de-anonymize transactions and obtain solid evidence on individuals who use cryptocurrencies to launder money, finance terrorism, or carry out drug dealing, extortion and other crimes. As such, it enables cryptocurrency forensics and intelligence providing detailed attribution, transaction risk scoring for cryptocurrency investigations and anti-money laundering (AML) compliance. CipherTrace leverages open and closed source blockchain attribution, as well as machine learning and multi-input clustering algorithms in order to visualize actionable intelligence and help comply with cryptocurrency regulations.
Benefits
CipherTrace's Maltego Transforms allow even non-technical agents and analysts to easily identify and trace criminals who attempt to use Bitcoin on the internet to conceal their illicit activities
Combine disparate forensics sources and gain a more comprehensive perspective in investigations
Typical users of this data
Law Enforcement Agencies (LEAs)
Financial Institutions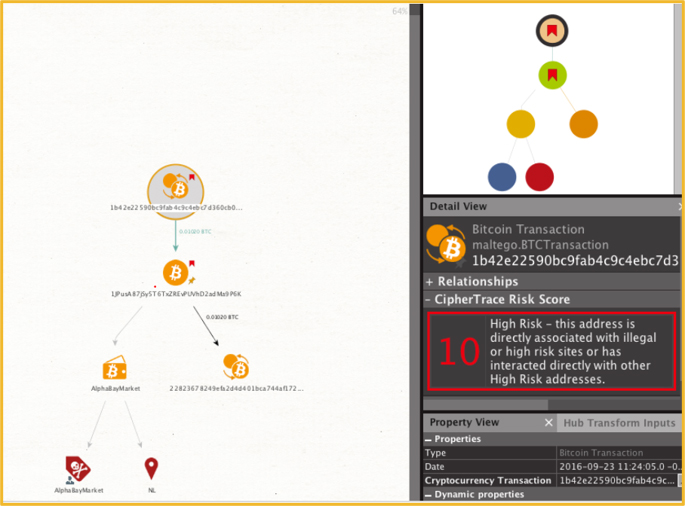 Pricing Tier: Paid
Hub Type: Commercial Hub and Community Hub
Requirements: For full solution access, Maltego One, Classic or XL license and CipherTrace Maltego subscription
Access: For sales inquiry or to purchase an API key, kindly reach out to
Contact
Reach out to us to learn more about this data integration and how to access it.
CipherTrace develops cryptocurrency solutions for anti-money laundering (AML)/counter-terrorist financing (CTF), blockchain forensics, crypto threat intelligence, and regulators. Leading exchanges, banks, auditors, regulators and digital asset businesses use CipherTrace to comply with regulatory requirements, investigate financial crimes, and foster trust in the crypto economy. Founded in 2015 by experienced Silicon Valley entrepreneurs with expertise in cybersecurity, eCrime, payments, banking, encryption, and virtual currencies. CipherTrace is backed by top venture capital investors and by the US Department of Homeland Security.
For more information, visit: https://ciphertrace.com/.

Pick the right product and get started.