You have been redirected from paterva.com. Maltego.com is the new home for all information regarding Maltego products. Read more about this in a message
from the Paterva team
and in this
blog post
and
FAQ
.
LoginsoftOSINT
By Loginsoft
Detect disposable phone numbers and obtain relevant meta-data.

LoginsoftOSINT Transforms for Maltego
LoginsoftOSINT is the outcome of diligence by OSINT Research Unit of Loginsoft's Research Team. The team has designed many intelligent methods to discover threats on several fronts. The database is regularly updated with data on disposable and fake phone numbers which is collected using web-scraping on several trusted sources across internet. 
LoginsoftOSINT for Maltego comprises of the LoginsoftOSINT Transforms. These Transforms check if a phone number is a fake or a disposable number by running a query against the LoginsoftOSINT database. 
The LoginsoftOSINT Transforms detect disposable phone numbers and obtain other meta-data such as apps registered with this phone number, last known activity time, risk value, and more.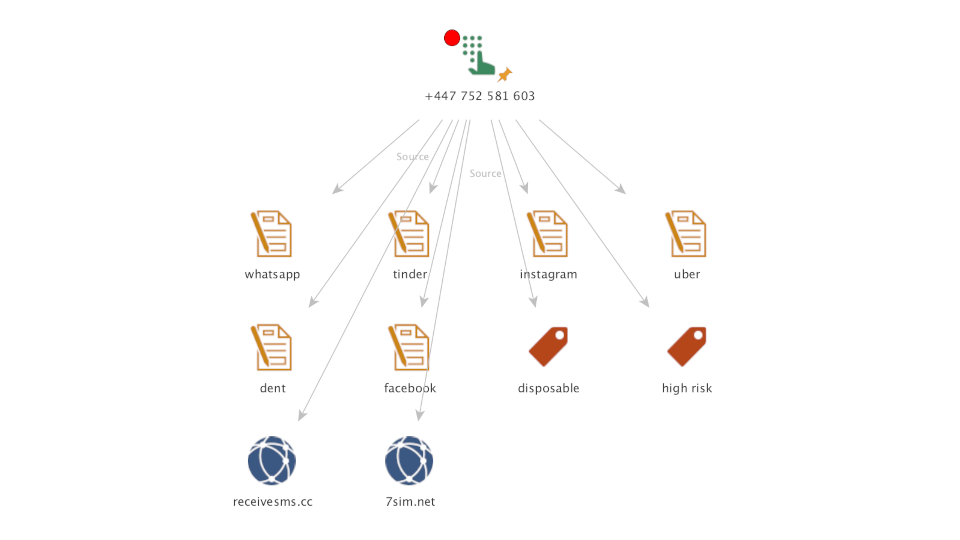 Typical Users of LoginsoftOSINT Data
Threat Intelligence Teams
Fraud Teams
Law Enforcement Agencies
Leverage LoginsoftOSINT Data for
Cyber Security Operations
Cyber security operations such as threat hunting or incident response often involve log data. The LoginsoftOSINT Transforms are helpful to verify and analyze any phone numbers found in the logs.
Cybercrime and Fraud Detection
Cybercriminal or fraud detection investigators often need to investigate information like the contact details of an individual or organization. The LoginsoftOSINT database supports law enforcement agencies as well as fraud teams to identify disposable phone numbers and pinpoint those that are more valuable.
Due Diligence and Trust and Safety
With the LoginsoftOSINT Transforms, organizations can easily cross-check the authenticity of user data and phone numbers to verify the identity of individuals approaching or introduced to the organization.
Community Hub
Available for users with Maltego CE.
Click-and-Run
Simply install the Hub item on your Maltego Desktop Client and start using it.
Commercial Hub
Users with Maltego One have the following access or purchase options:
Click-and-Run
Simply install the Hub item on your Maltego Desktop Client and start using it.
Contact
Reach out to us to learn more about this data integration and how to access it.
Loginsoft is an emerging IT solutions company - delivers Cybersecurity, Software Development, Offshore Development, IT Consulting and Staff Augmentation among others. LoginsoftOSINT is the outcome of diligence by OSINT Research Unit of Loginsoft's Research Team. The team has designed many intelligent methods to discover threats on several fronts. Detection of disposable number can help in many aspects of Cyber Security such as Cybercrime and Fraud Detection, Reconnaissance and Footprinting of phone numbers etc. For more information, visit 
https://research.loginsoft.com