You have been redirected from paterva.com. Maltego.com is the new home for all information regarding Maltego products. Read more about this in a message
from the Paterva team
and in this
blog post
and
FAQ
.
DomainTools Iris
By DomainTools LLC
DomainTools Iris in the Transform Hub
DomainTools Iris is a Threat Intelligence and Investigative Platform that combines enterprise grade domain intelligence and risk scoring with passive DNS data from Farsight and other top-tier providers.
With DomainTools Iris's Maltego Transforms, investigators can perform infrastructure risk assessment and seamlessly integrate workflows into a Maltego Graph and vice versa. These Transforms enable investigators to map connected infrastructure, run correlations, look at attribution, highlight risky domains, etc. to surface meaningful insights.
Benefits
Extending the rich DNS, Whois, and beyond Whois datasets, with these transforms Analysts can increase the chance of intersection with existing graph data from other data sources to open up new investigative pathways
40+ Transforms that query the DomainTools Iris dataset and return domain names that share the same attributes as the value of the entity
Pivot and infer connections between different domains, assisting with mapping out a potential threat actor or group's TTPs (tactics, techniques, and procedures) using guided pivots
Typical Users of This Data
Threat Intelligence Teams
Online Fraud & Brand Fraud Investigators
Security Analysts
Incident Response Teams
Hunt Teams and Cyber Forensic Investigators
Corporate securing teams requiring domain-based risk assessment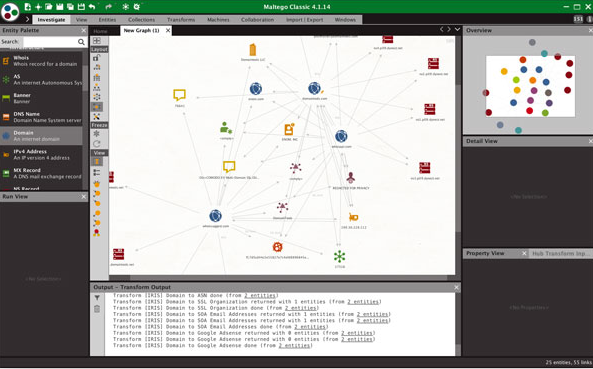 Pricing Tier: Paid
Hub Type: Commercial Hub
Requirements: Maltego One, Classic or XL license & DomainTools Iris membership
Access: For sales inquiry or to purchase an API key, kindly reach out to Maltego using the form below.
Contact
Reach out to us to learn more about this data integration and how to access it.
DomainTools helps security analysts turn threat data into Threat Intelligence. DomainTools connects indicators from a company's network, including domain and IPs, with active domains on the Internet. Those connections inform about risk assessments, help profile attackers, guide online fraud investigations, and map cyber activity to attacker infrastructure. DomainTools has over 10 Billion related DNS data points to build a map of 'who's doing what' on the Internet. Fortune 1000 companies, global government agencies, and leading security solution vendors use the DomainTools platform as a critical ingredient in their threat investigation and mitigation work.
For more information, visit: https://www.domaintools.com/
Pick the right product and get started.