Standard Transforms
By Maltego Technologies
OSINT Transforms available out of the box with every Maltego Desktop Client.
Maltego Standard Transforms 
The Maltego Standard Transforms are the default OSINT Transforms that ship with every Maltego Desktop Client. These include Transforms for gathering OSINT from common sources on the internet such as queries on DNS servers, search engines, social networks, various APIs, and other sources. 
With over 150 Transforms, the Maltego Standard Transforms enable investigators to perform a vast range of standard use cases on Maltego, including: 
Infrastructure footprinting 
Discovering related domains and infrastructure 
Analyzing live and historical web content 
Extracting and mapping document metadata 
Investigating social media handles and email addresses 
Analyzing documents via natural language processing and many more. 
The Standard Transforms are useful for nearly all types of investigations commonly performed in Maltego, and include both specialized and generic Transforms to supplement the functionality of other Hub items. 
The Transforms are available to all commercial Maltego users as well as CE users, with a few exceptions in the case of paid APIs.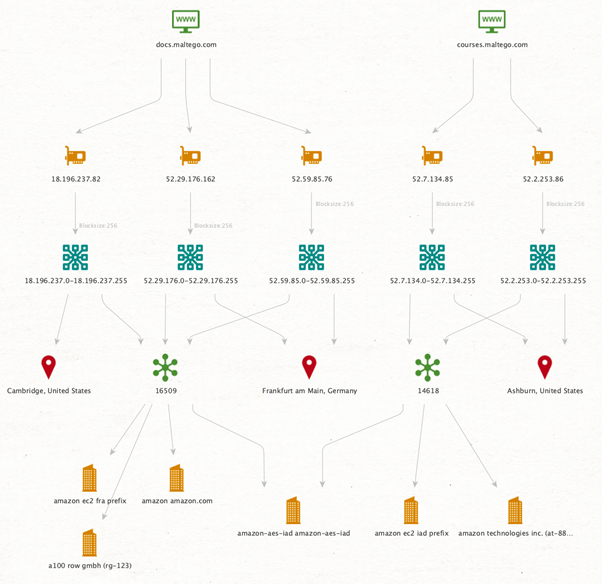 Note: A detailed walkthrough of some key use-cases of these Transforms is available in the documentation.
Featured Datasets of Maltego Standard Transforms
BuiltWith Transforms
The Maltego BuiltWith Transforms provide the current and historic technologies which websites are built upon. These Transforms are particularly useful for discovering relationships between websites and for retrieving the details on how these are related, as well as the duration of the relation (e.g., IPs and tracking codes).
IPQualityScore Transforms
Our Maltego IPQualityScore (IPQS) Transforms connect to three of the IPQS APIs: Email Verification and Reputation API, Proxy & VPN Detection API, and Phone Number Validation API. The different Transforms sets allow you to verify and fraud-check email addresses and phone numbers, and to identify suspicious IP addresses.
Microsoft Bing Search
Maltego Search Engine Transforms use the Bing API and return Bing search results for a given input query such as telephone number, URLs, domain, email addresses, and more. With these Transforms, investigators can narrow down the search focus in Maltego, find specific file types, and search specific IP Addresses using Dorking techniques.
OpenCNAM Transforms
OpenCNAM provides a caller ID service that serves as a simple interface to potentially enrich a phone number with a possible name for the owner. The available OpenCNAM Transform allows you to look up a phone number against its database.
SecurityTrails Transforms
Powered by SecurityTrails, some of the Maltego network infrastructure Transforms allow investigators to pivot between domains, DNS names, IP addresses, NS and MX records, and netblocks.
Shodan InternetDB
Shodan InternetDB Transforms enable investigators to quickly loop up open ports, CPEs, hostnames, and vulnerabilities associated to an IP address and explore infrastructure of attackers and potential threat actors.
Wayback Machine Transforms
The Wayback Machine Transforms allow you to browse snapshots and archived content of hundreds of billions of websites, going back for years. Using these Transforms you will be able to uncover deleted pages, hidden files, changed content and more.
WhoisXML Transforms
Supporting infrastructure footprinting, the WhoisXML Transforms enable investigators to explore relationships between AS numbers, domains, companies, netblocks, and IP addresses.
Wikipedia-EN Transforms
Using the Wikipedia-EN Transforms, investigators can identify which users, IPs, and netblocks have made edits to Wikipedia pages and what those edits were. These Transforms are particularly useful for uncovering misinformation campaigns and for enriching internet infrastructure information.
Automate Investigations with Maltego Machines
Footprint L1 – L3 Machines
The Network Footprinting Machines automate basic to advanced level footprinting processes using Maltego's infrastructure Transforms. With just a single click, Maltego maps out the extensive network of a domain, including information such as IP addresses, DNS names, NS and MX servers, netblocks, AS numbers, and more.
Find Wikipedia Edits Machine
This Machine takes a domain and tries to identify possible Wikipedia edits related to the domain.
Company Stalker Machine
This Machine attempts to retrieve all email addresses tied to a domain and checks which resolves to one or more social networks. It also extracts documents and meta data found relevant to the domain.
Read more
Community Hub
Users with Maltego Community Edition.
Free
Simply install and start using the Maltego Standard Transform Hub item! Please note that certain Transforms have limited monthly Transform run allowances for Maltego CE users. Please
refer to this document
for a detailed overview of the allowances.
Commercial Hub
Users with a Maltego One license.
Free
Simply install and start using the Maltego Standard Transform Hub item! Please note that certain Transforms have limited monthly Transform run allowances for Maltego Pro and Enterprise users. Please
refer to this document
for a detailed overview of the allowances.
Ask us about the Data sources
About Standard Transforms
Maltego Technologies GmbH is your partner for all Maltego products and provider of all Maltego related services. It was founded in 2017 and is based in Munich, Germany.