Darkside
By District4 Labs
Enhance your OSINT capabilities by leveraging growing repository of global compromised credentials and other Person of Interest data.
Darkside Transforms for Maltego
District4's flagship product, Darkside, is an open-source data solution that leverages one of the largest repositories of compromised credentials and other person of interest data. With over 40 billion records and millions of new records added daily from deep and dark web sources around the globe, Darkside is truly at the cutting edge of cyber threat intelligence data. This data is essential for any online investigation, especially those involving adversarial or anonymous threat actors.
When paired with the link analysis power of Maltego, qualified/vetted investigators can quickly pivot off email addresses, domains, IP addresses, names, passwords and other person of interest data to unravel a subject's online presence; identify threat actors; determine a company's breach exposure and perform cutting-edge OSINT investigations.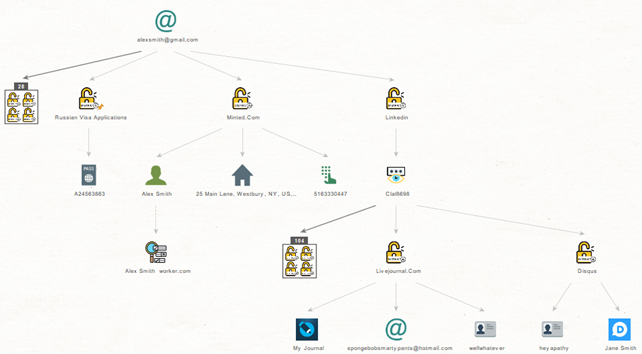 Typical users of Darkside Transforms
Intelligence Analysts
Due Diligence & Investigations Researchers
Third Party Risk Analysts
Threat Intelligence Teams
Corporate Security Stakeholders
Investigative Agencies
Integration Benefits
Determine Individual and Corporate PII Exposure
District4's repositories include data going back 20+ years and is constantly being updated with new records from compromised organizations and websites from all over the world, large and small. With this integration, investigators can unravel an individual or company's online presence and determine the extent to which their or their customers' or employees' PII has been exposed.
Enrich Person of Interest Investigations
Investigators can build out a holistic picture of a subject's online presence using Darkside data and combine it with other data sources on the Transform Hub.
Super-charge Investigations
Pivot within Darkside data and identify otherwise unidentifiable Person Of Interest data or to search other integrated sources.
Leverage Darkside data for
Threat Attribution
Investigators and threat analysts responding to anonymous threats can leverage Darkside to quickly determine the real-world identity of individuals behind anonymous email addresses, phone numbers, domains, IP addresses, usernames, and social media profiles.
Corporate Dark Web Exposure
Pen-testers, corporate security investigators and risk analysts can utilize our 40 billion+ records to search by corporate IP address or company domain to determine the extent to which a company's employees or customers have been compromised and then use that information to aid in a penetration test, protect customers/employees or to help determine cyber risk.
Social Media Intelligence & Due Diligence Investigations
Due Diligence researchers, corporate investigators, and OSINT collectors can leverage our 40 billion record database to build out a holistic picture of a subject's online presence.
Read more
Community Hub
Only available with Maltego commercial plans.
Commercial Hub
Users with a Maltego One license have the following purchase options.
Click-And-Run
Simply install the Hub item and start using the Transforms in your Maltego plan
Maltego Enterprise: 20 Transform Runs / month
Data Subscription
Purchase annual data subscriptions by reaching out to support@maltego.com.
Kindly note that each data subscription purchase is subject to a Know Your Customer (KYC) vetting process according to the respective terms of use for the data in question. Due to the often-sensitive nature of data, access is generally reserved for vetted organizations with legitimate use cases commonly associated with organizations. Thus, after placing an order request in the web-shop or via our sales team, customers need to undergo a KYC vetting process before the purchase can be completed and they can make use of the data subscription.
Bring Your Own Key
Plug in your Darkside API key to install and use the Transforms in Maltego.
About District4
District4 Labs is an open-source data company founded by investigators for investigators. Our flagship product, Darkside, leverages one of the largest compromised records repositories in the world to deliver unique insight into companies, individuals and infrastructure.
For more information, visit www.District4labs.com