When conducting person of interest investigations relating to fraud, company-related investigations, or phishing attacks, phone numbers are often vital pieces of information. However, connecting phone numbers to tangible leads can be challenging, and even where that succeeds, those leads still need to be further contextualized, which requires yet more data sources.
Connecting the dots and contextualizing evidence is precisely what Maltego is a perfect fit for. With our latest release to the Maltego Standard Transforms, we have placed two new valuable tools for working with phone numbers at investigators' fingertips: OpenCNAM's caller ID service and IPQualityScore's Phone Number Validation API. These two data integrations play a supportive role in investigations involving phone numbers.
OpenCNAM Transform for Maltego 🔗︎
OpenCNAM provides a simple caller ID service, just as the one you might find on your smartphone. It thus provides an easy interface to try and enrich a phone number with a possible name for the owner. This is now available in Maltego in the form of the "Lookup Phone Number [OpenCNAM]" Transform.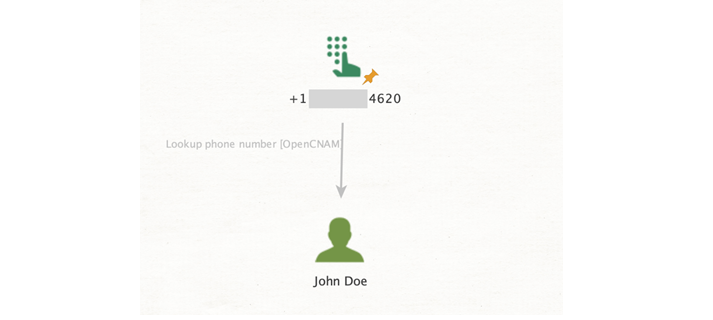 IPQS Phone Number Transforms for Maltego 🔗︎
IPQualityScore's Phone Number Validation API also features a caller ID or "Reverse Phone Number Lookup" component as well as:
Location Detection
Spam/Fraud Screening
Carrier & Line Type Detection
In Maltego, these features are made available via two new Transforms: "Verify and fraud-check phone number [IPQS]," which primarily enriches a phone number with validity and spam/ fraud related tags, and "Get tags and indicators for phone number [IPQS]," which fetches name, location, carrier, and other available concrete information.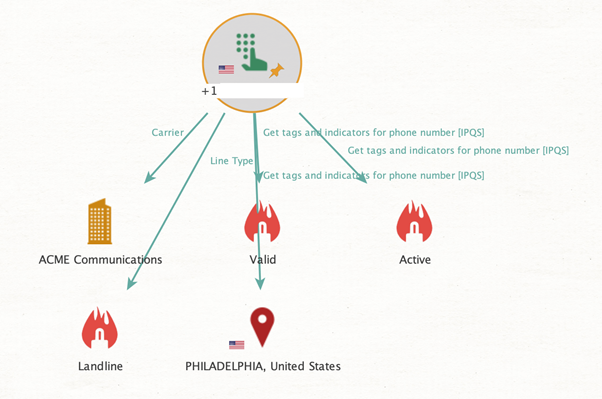 In our experience, both of these services tend to have the strongest coverage for US phone numbers but can be used to enrich phone numbers worldwide with varying levels of detail.
Data Access and Allowances 🔗︎
We are making Data Allowances available for these new Transforms across all our license tiers.
Each month, users will have access to the following quotas:
CE (Community Edition) Users receive 25 OpenCNAM queries and 50 IPQS queries
Pro Users receive 100 OpenCNAM queries and 500 IPQS queries
Enterprise Users receive 500 OpenCNAM queries and 2500 IPQS queries
Please note that the data allowance for IPQS queries is shared with the other IPQS Transforms already integrated into the Standard Transforms, which means that using any of these Transforms will use the same available quota as the others.
As usual, should you require more Transform runs than those included in your free quota, you can sign up for an API key by yourself and use it with the Transforms by providing the credentials on the Standard Transform Hub item.
To enter your own API credentials, simply open the detail view of the Standard Transforms Hub item:

And, under "Settings", enter your IPQS API Key, or in the case of OpenCNAM, your Account SID and API Key: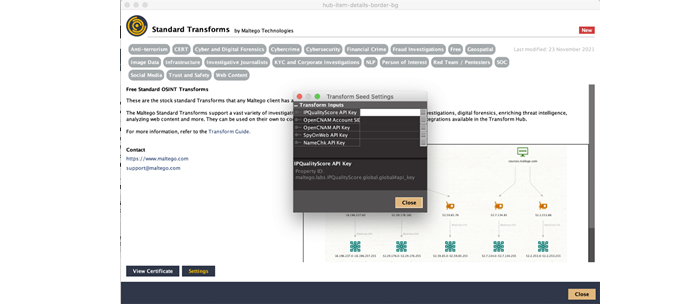 With tools like IPQS and OpenCNAM conveniently at your disposal, connecting the dots from phone numbers to useful leads in Maltego will become easier. We hope you'll find these Transforms useful in your investigations!
Don't forget to follow us on Twitter and LinkedIn and sign up for our email newsletter to stay updated on the latest news, tutorials, and events.
Happy investigating!