Ensure Trust and Safety In Your Organization
Fight fraud, abuse and insider threat with Maltego, and forget about in-house maintenance, development and deprecation risk.​
schedule a demo
Download Product Brief
Increase the Speed and Precision of Complex Trust & Safety Investigations​

Access all your data in one UI.
Integrate data from your CRM, ticketing system and User Behavior Analytics in one place​
Access data from different internal databases and manage access privileges for compliance
Access social media data, company ownership information and digital profiling data from OSINT and third-party providers​​

Quickly analyze your data.
Pull data from internal systems for faster enrichment and contextualization of your investigation
Automate repetitive tasks and speed up investigations with Maltego Machines​
Toggle between our different layouts and view options to find clusters of data for attribution

Collaborate with your team.
Easily collaborate and share insights on digital evidence via live graph sharing​
Provide insights into your CRM for future report investigations
Use the reporting features, share your insights and help develop and improve policy mechanisms
Optimize your Investigation Workflows​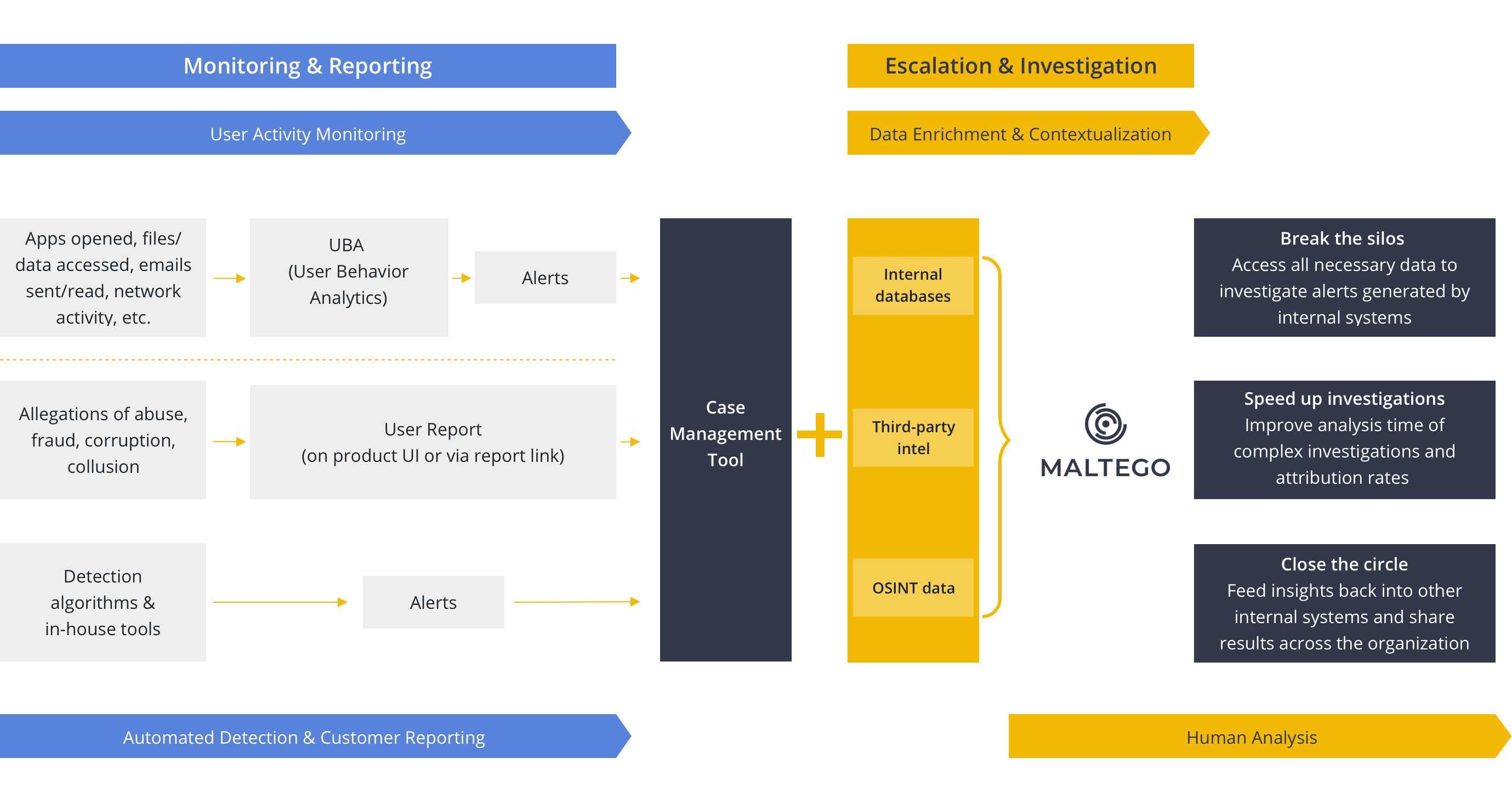 Simplify the investigation of system alerts
Seamlessly transfer data from your internal monitoring and ticketing systems into Maltego for alert escalations that require a human analysis
Easily integrate and correlate disparate private data and third-party intelligence in one UI to enrich, contextualize and resolve complex investigations
Improve analysis time, attribution and resolution rates
Increase team maturity and solve a higher volume of complex investigations in shorter times
Determine the source, structure and motivation of abuse of customer data or user generated content in violation of your policies
Feed insights back into other internal systems for future investigations
Use past investigation insights to efficiently analyze the development of abusive behavior and trends
Improve detection rules and policies to reduce opportunities for malicious insiders to operate within the network unnoticed
Featured Data Integrations
Simplify and expedite your investigation by seamlessly integrating your CRM, ticketing system, User Behavior Analytics (UBA), OSINT and other third-party data​
Maltego simplifies and expedites your investigations.
Get access to our demo to see how we can help your business.
Maltego simplifies and expedites your investigations. Get access to our demo to see how we can help your business.