Deployment & Infrastructure
Overview of Deployment Options 🔗︎
Maltego offers the following deployment options:
1. Maltego Community Cloud 🔗︎
This is the default option available to our Community Edition and Maltego Pro users, whereby our Standard Transforms and collaboration capabilities are routed via the Maltego public Transform server.

2. Maltego Enterprise Cloud 🔗︎
For our Enterprise users, we soon offer the option of routing Standard Transforms and collaboration via dedicated servers located in the EU or USA. User traffic is routed via the server closest to the user. For larger installations, we also offer dedicated cloud deployments on servers reserved for single customers.
3. On-premise Deployment 🔗︎
Transforms can be deployed on infrastructure you control to give you the ability to integrate with your internal data sources and leverage internal processes as well as distribute these Transforms across your enterprise. For on-premise deployments, we offer the following add-ons:
Standard Transforms add-on (CTAS): On-premise deployment for certain ready-made integrations to open sources and third-party data sources accessible via your own API keys.
Own Data add-on (iTDS): Develop and deploy own Transforms on-premise to access your own data sources and distribute them to your teams
Collaboration add-on (Comms): Collaborate with fellow investigators in real-time with shared graphs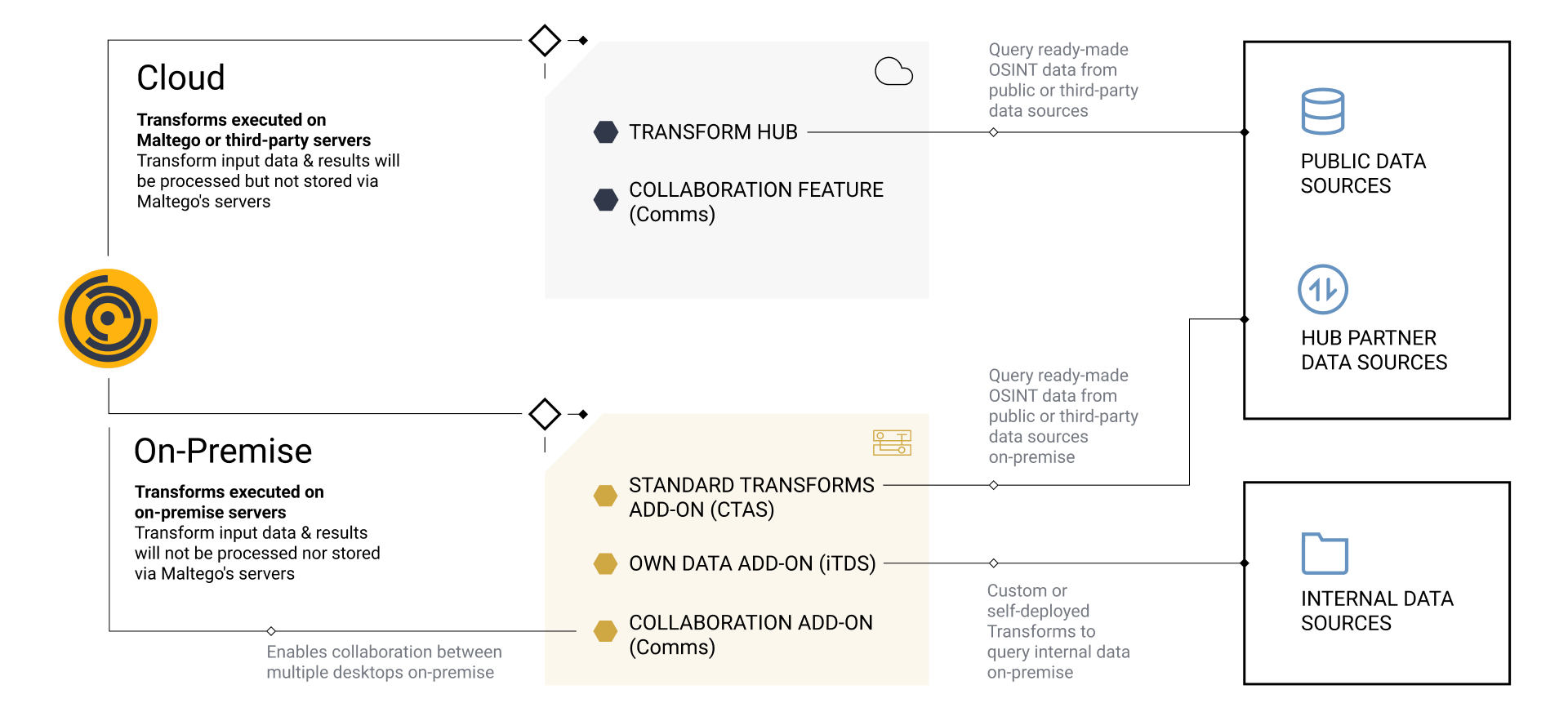 Standard Transforms add-on (CTAS) 🔗︎
This server allows on-premise deployment of certain ready-made Transforms that integrate to open source and third-party data sources . By purchasing this add-on, you will have your own Transform server deployed using your own infrastructure and accessible via your own API keys. This is specifically applicable to clients who do not want any of their data travelling through Maltego's infrastructure.
Why use a Standard Transforms add-on?
By default, Maltego Clients use Maltego's infrastructure to run Transforms deployed and shared with users. The Standard Transforms add-on (CTAS) provides the option for users to deploy certain ready-made Transforms on premise. It helps customers comply with regulatory frameworks that require them to route all investigative data over servers hosted on their infrastructure.
The Standard Transforms add-on (CTAS) includes Transforms for gathering OSINT data from common sources on the internet and via APIs for certain data sources, depending on the user's needs and resources. It also allows customers to use their own API keys.
The Standard Transforms add-on (CTAS) queries the following out-of-the-box data sources:
DNS servers,
Search Engines,
Online Databases,
Various Social Networks,
Online APIs,
Other Public Sources.
A full list of the Transforms that are included with Standard Transforms can be found in our Transform guide here.
Own Data add-on (iTDS) 🔗︎
The Own Data add-on allows you to easily manage and distribute custom Maltego Transforms, own Entities and settings from a central location within your organization.
What is an Own Data add-on?
The Own Data add-on allows custom Transforms and Entities to be developed, managed, shared and distributed from a central point within your organization. As such, it is the cornerstone of Maltego's customizability. This server is suited for organizations who are building Transforms that integrate with their own (internal) data and who want to share these Transforms with multiple Maltego Desktop Client users on their internal network.
What does an Own Data add-on do?
An Own Data add-on allows you to combine Maltego Transforms, Entities and their configurations into a single item that can be distributed and installed by different Maltego users. This makes it easy to share custom Transforms and configurations amongst a team of analysts or, should you choose so, with the rest of the world. The iTDS is configured and managed using a web-interface.
An Own Data add-on will be useful to anyone who wants to integrate their data into Maltego by building custom Maltego Transforms. It allows you to easily share the Transforms you build within a team of Maltego users. This server is useful to those who want to connect OSINT data and third-party vendor data from Maltego's Transform Hub with own data sources to allow user to pivot through all these data sources within Maltego. With on-premise data integration with the Own Data add-on, users can build powerful workflows that increase the precision and speed of investigations.
Collaboration add-on (Comms) 🔗︎
What is a Collaboration add-on?
The Collaboration add-on provides users with the ability to share graphs and have multiple analysts work on a graph at the same time.
What does a Collaboration add-on do?
The Collaboration add-on allows multiple users to work interactively on a shared Maltego graph in real-time. Users can interact over a built-in chat messenger as well as send links to selected portions of the graph. Shared graphs are kept private with your session key that is used to encrypt the communication traffic with 128/256-bit AES. Shared graph sessions are cross-platform meaning that different clients can all join the same shared graph. This allows investigators with access to different data sources and different expertise to bring their investigative skills to the team in real-time.
If you are interested in purchasing any of our server solutions, please send us a price inquiry using this form. Please note that, unlike Desktop Client licenses, Maltego servers cannot be ordered online through our online gateway.