Since June 2022, Maltego has launched a new social media campaign that provides Maltego users and investigators with cheat sheets showing how to best use our Hub items for certain workflows. Check out the Investigator Toolkit February roundup in this article!
Investigator Toolkit: Quick Starts to Using Maltego Hub Items in Real-life Investigations 🔗︎
Presented to you by Maltego, the Investigator Toolkit series showcases each Maltego Transform Hub item with a sample workflow applicable to certain types of investigations. This series aims to help you quickly learn how to include a particular Hub item in your existing workflows.
Where to Find the Investigator Toolkit? 🔗︎
You can find the Investigator Toolkit series on our Twitter and LinkedIn channels, with the hashtags #MaltegoMonday and #InvestigatorToolkit. Every Monday, each Investigator Toolkit post comes with a workflow cheat sheet and a blog article or webinar as an additional demonstration.
All Previous Investigator Toolkit Roundups 🔗︎
Investigator Toolkit February Roundup 🔗︎
In February, we featured the following four Hub items and their use cases in the Investigator Toolkit series:
Let's dive straight into how to use these Hub items for on-demand translation, criminal warrant monitoring, person of interest investigation, and SIEM investigation!
DeepL: On-demand Translation 🔗︎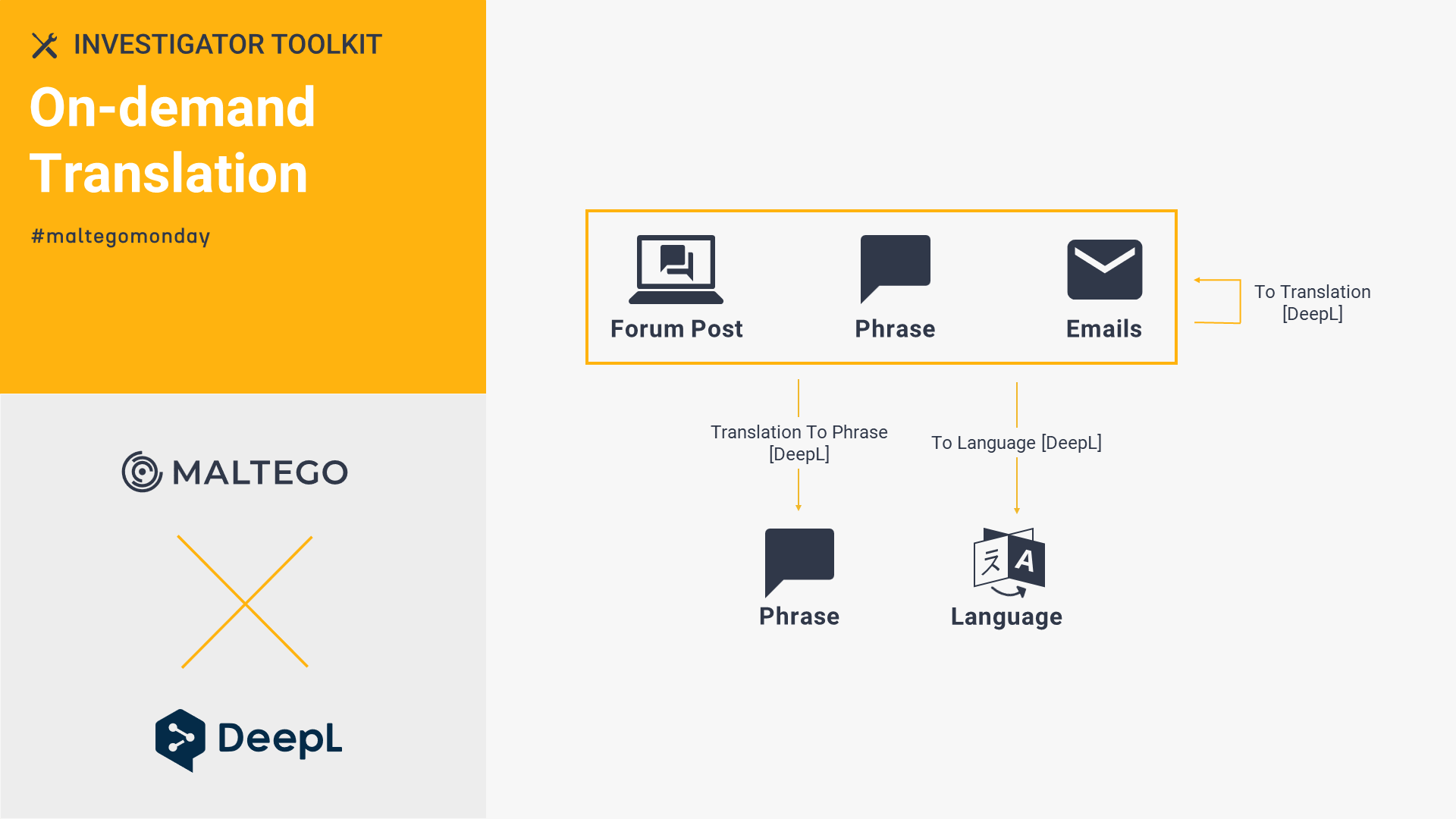 With the integrated DeepL Transform, investigators can seamlessly translate the main value of any Entity in #Maltego into 20+ languages. See how we accelerate and enrich our investigations by leveraging the DeepL Transforms in Maltego to identify languages in use and obtain translated texts. Overcome the language barrier in just a few clicks!
FlightAware: Criminal Warrant Monitoring 🔗︎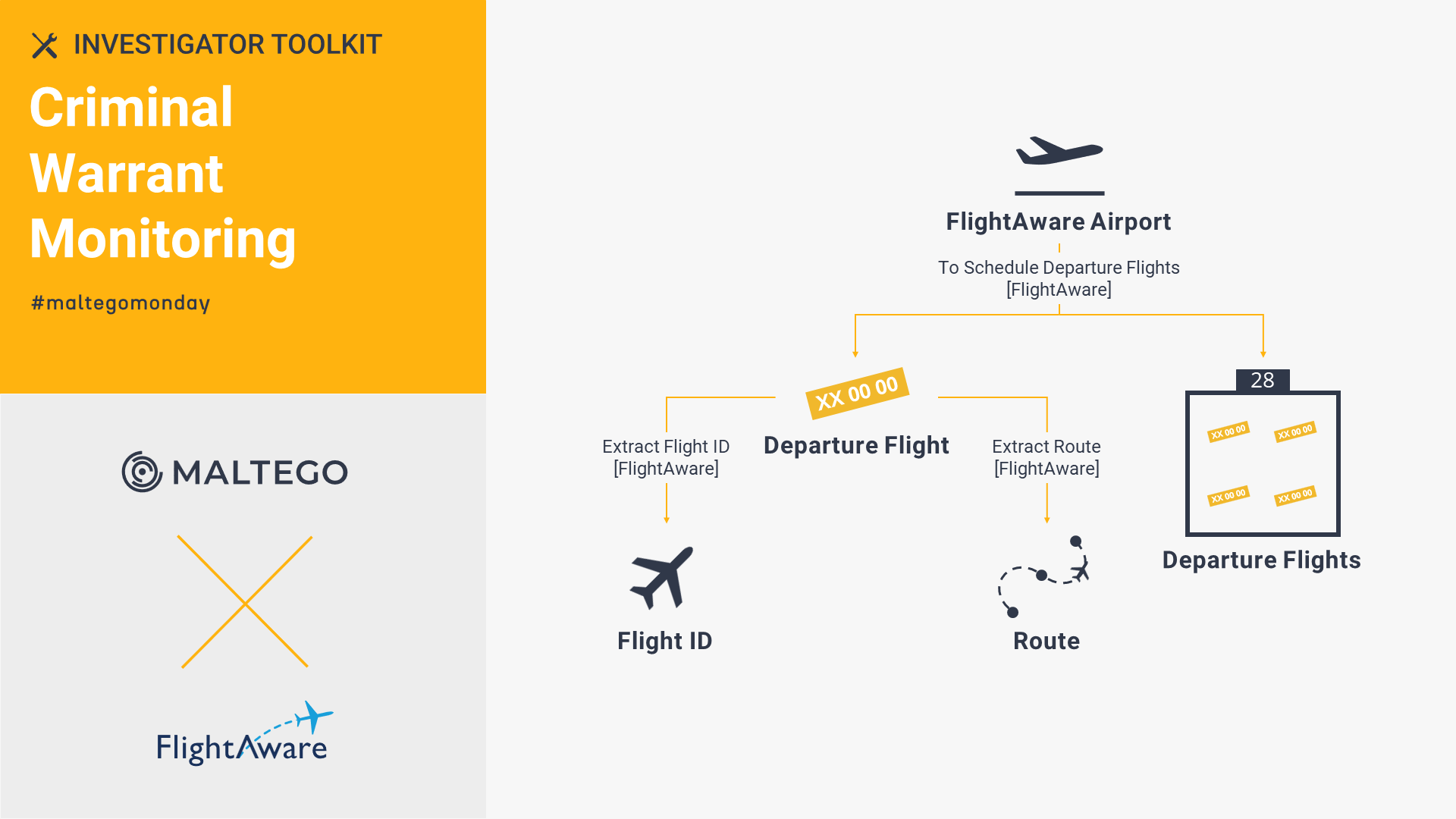 FlightAware provides current and historical flight data, ranging from a flight's origin, destination, and operator to ownership details. See how we use FlightAware to pull relevant flight data of our person of interest and identify the criminal organizations behind an unidentified aircraft using its tail number. Try it out now to track person of interest movements in your POI investigations!
Hunter: Person of Interest Investigation 🔗︎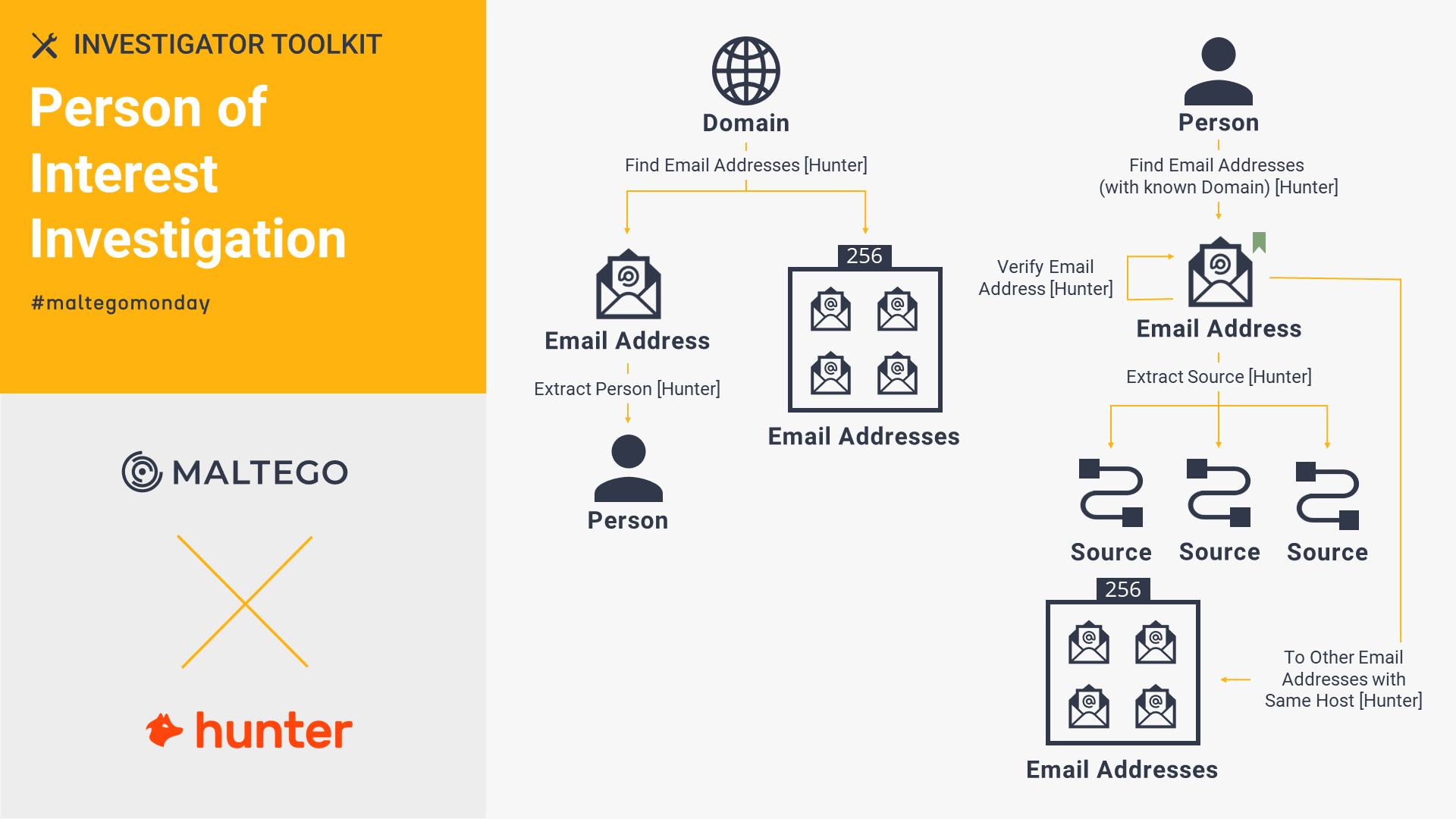 Using an Alias Entity or a Domain Entity, investigators can query Hunter to find the professional email address of their person of interest, examining its confidence score. Follow the steps to gather more information!
IBM QRadar: SIEM Investigation 🔗︎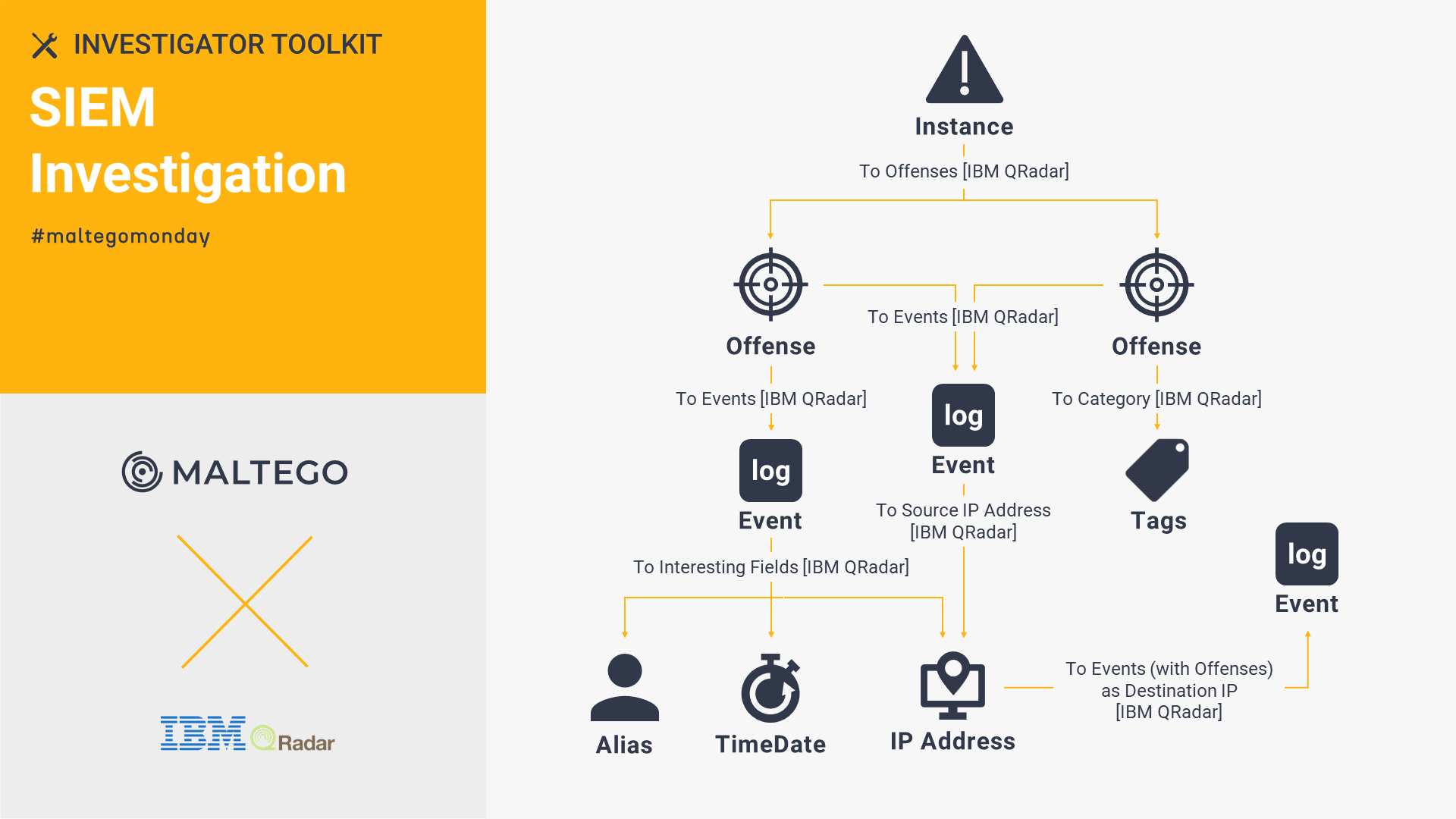 With the IBM QRadar Transforms for Maltego, investigators can quickly extract and gain insights into host assets, offense details, IOCs, event logs, and more from a given QRadar instance. Try out the cheat sheet now!
Check out the Investigator Toolkit series now! 🔗︎
In the following months, we will continue digging into different Hub items available in Maltego and providing best practice tips for investigators.
Follow us on Twitter and LinkedIn now to make sure you don't miss any updates!
Happy Investigating!