In various industries such as financial institutions, consumer goods companies, and pharmaceutical manufacturing, Trust and Safety teams are the bedrock of maintaining user security and an organization's integrity and compliance in the face of escalating digital threats.
However, despite the critical nature of their work, these teams often encounter challenges due to a lack of unified toolkits and the overwhelming amount of dispersed data that requires processing to identify meaningful connections. This holds them back from realizing their full potential, as a significant portion of their time is consumed by repetitive tasks—a precious commodity in their line of work.
When dealing with the challenges of managing an excess of internal and external databases, a mapping tool proves to be a valuable asset as it can automate the commonly repetitive and manual tasks, and help advance the investigation.
What Trust and Safety Teams Do 🔗︎
In order to understand where automation is most needed, it is important to note that the roles and responsibilities of these teams can differ based on the industry and the types of investigations they conduct.
Adding to the complexity, Trust and Safety teams aren't always referred to by the exact same name. Different organizations may use titles such as digital risk teams, brand protection teams,or fraud and abuse teams.
While teams go by various names, there are some core duties that these teams universally grapple with: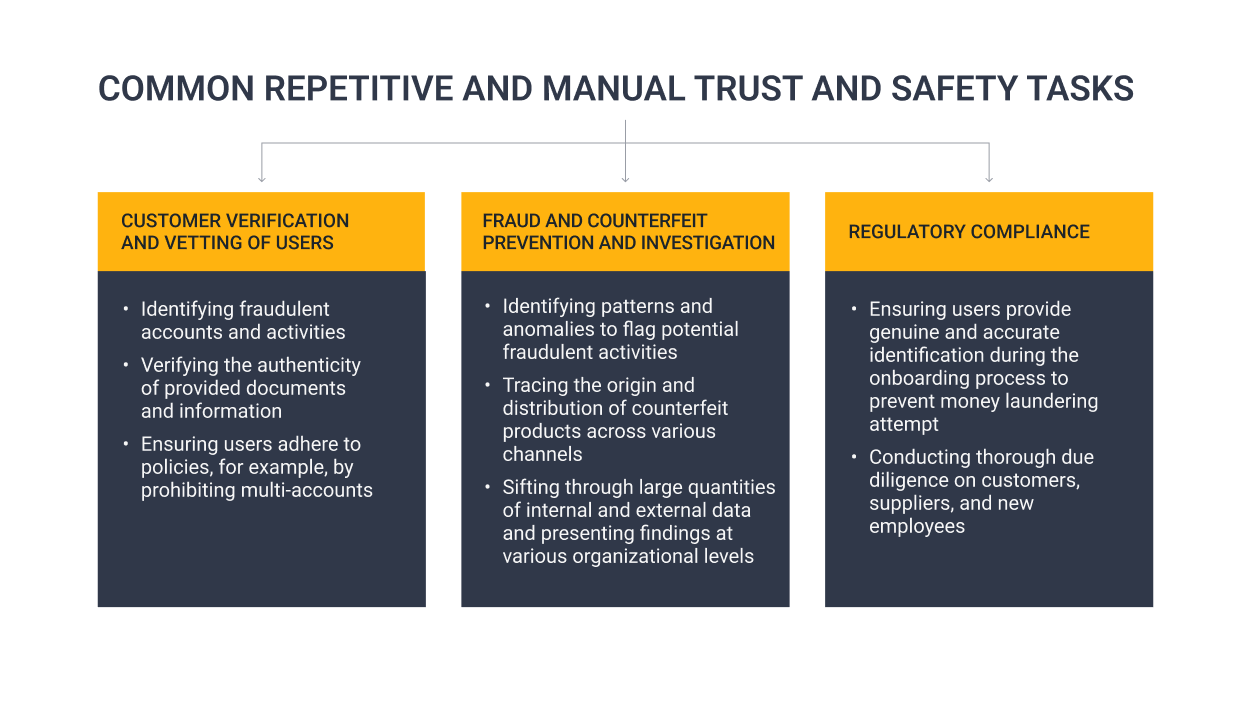 What Challenges Trust and Safety Teams Face 🔗︎
While this list is not exhaustive, it reflects commonalities in all these tasks. The challenges of repetition and efficient management of scattered and sometimes irrelevant data are prevalent, regardless of the industry or profile of a given Trust and Safety team.
We also cannot overemphasize the importance of proper documentation for Trust and Safety teams. Documentation provides a clear record of the investigative process, supports knowledge sharing within the team, and aids in analyzing and enhancing investigative workflows. However, this is impeded by varying data formats and sources.
Lastly, an inadequate toolkit or an abundance of tools that fall short in presenting data effectively and identifying concealed connections exacerbate the situation.
How to Solve Trust and Safety Problems at Scale with a Mapping Tool 🔗︎
Stepping back, it's evident that data lies at the heart of all these challenges. Without a solution that integrates these various data sources, automating these tasks and overcoming such hurdles is out of our reach.
How we process, manage, and handle data, and the insights we gather from it, can either propel our investigations forward or hinder our progress if we don't find an effective way to combine our data sources.
Download This PDF and Find out: 🔗︎
How data solves Trust and Safety problems at scale
In what way a mapping tool can help simplify Trust and Safety workflows
What methods to use in a mapping tool to find connections across multiple databases
How it can help with brand protection, person of interest, and other investigations
What the step-by-step process of mapping data looks in Maltego
If you want to find even more information on automating your brand protection using Maltego, check out this article about Maltego Machines – a feature that can vastly help speed up repetitive steps in an investigation run in Maltego.
Don't forget to follow us on Twitter, LinkedIn, and Mastodon, and sign up to our email newsletter, so you don't miss out on updates and news!
Happy investigating!
About the Author 🔗︎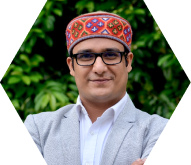 Nitish Chandan 🔗︎
Nitish Chandan is an experienced trust and safety professional with expertise in product risk assessment, crisis response, and investigations. He is currently a Subject Matter Expert at Maltego, where he works with platforms to support their trust and safety investigation needs by developing use cases and investigation pathways. He also regularly conducts training for trust and safety teams to build capacity in risk assessments and fraud investigations. In his last role at Twitter, he was a Senior Product Trust Partner, focused on Twitter's revenue products and product compliance in the JAPAC region.