You have been redirected from paterva.com. Maltego.com is the new home for all information regarding Maltego products. Read more about this in a message
from the Paterva team
and in this
blog post
and
FAQ
.
27 May 2021
Webinar | Know Your Adversary: Enrich Your Investigations with Cybercrime Intelligence
As cyber professionals, understanding the identity and tactics of your adversary is critical to winning the war against cybercrime. The cyber underground is a convoluted marketplace focused on exploiting organizations' products, assets, and people. Easy and flexible access to real-time and in-depth insights about the activities of sophisticated, financially motivated cybercriminals, hacktivists, and other threats is increasingly important to protect your businesses.
Webinar | Enrich Your Investigations with Intel 471 Cybercrime Intelligence 🔗︎
This webinar explains how the investigative capabilities of Maltego combined with Intel 471 Transforms can enable investigators to proactively measure security threats and link risk data. Investigators can get a comprehensive perspective by visualizing powerful insights into various cybersecurity disciplines such as deep and dark web investigations, brand protection, due diligence, fraud, insider threat, vulnerability management.
In this webinar, you will learn: 🔗︎
How Intel 471 and Maltego can enrich and accelerate your investigation of criminal actors.
How combining and visualizing cybercrime intelligence in your workflow will drive efficiencies.
Insights and best practices from a real-world investigation tapping into underground messaging and forum discussions.
Meet the Speakers 🔗︎
The speakers of this webinar are FLilian Dolgolenko and Matt Green from Intel 471, Liv Rowley from Maltego, and Robert McArdle from TrendMicro.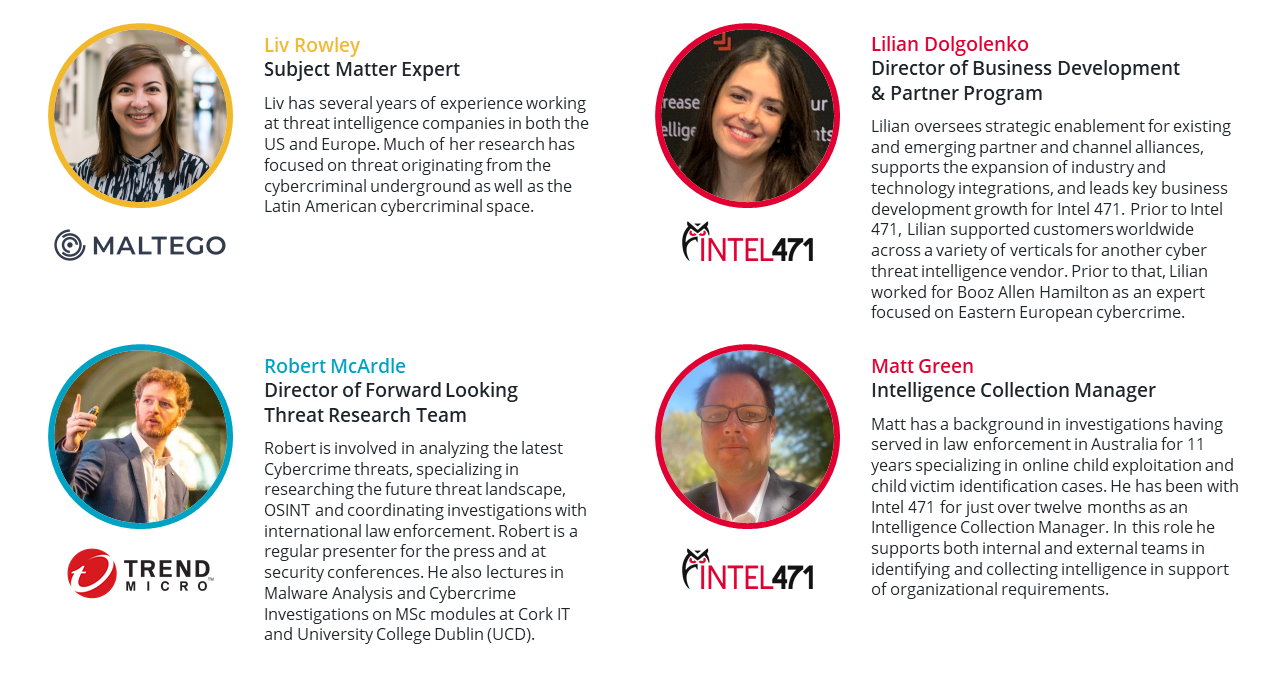 Download and watch this webinar now to learn how these platforms provide cyber security teams, law enforcement agencies, and Trust & Safety investigators with the necessary context to stay ahead of potential threats and trace cybercriminal activities.
Don't forget to follow us on Twitter and LinkedIn and subscribe to our email newsletters to receive updates on the latest webinars, case studies, and tutorials!
About Intel 471 🔗︎
Intel 471 provides in-depth and globally relevant coverage and tracking of sophisticated, financially motivated cybercriminals, hacktivists and other threats targeting organizations, their customers, employees, and suppliers. These actionable insights into threat actors equip cyber security teams, law enforcement agencies, and Trust & Safety investigators with the necessary context to understand and stay ahead of potential threats.
Integrated with Maltego, the Intel 471 Transforms enable investigators to visualize threat profiles and map the relationships between pieces of digital evidence left behind by threat actors. The data integration includes:
Intel 471 Deep & Dark Web Collections (Pro)
Intel 471 Adversary, Vulnerability, and Malware Intelligence (Enterprise)
Learn more about Intel 471 data in our blog article here .
Access to Intel 471 Data in Maltego 🔗︎
The Intel 471 data integration in Maltego is available for all Matlego commercial users with a Maltego data bundle subscription (deep & dark web data only) or an Intel 471 API key (full solution).
Customers who are interested in leveraging Intel 471 underground collection through data bundles can simply find the option that fits their data requirements on our Transform Hub webpage and purchase it in our web-shop .
For more information about accessing Intel 471 data in Maltego, please visit our Hub page .
Pick the right product and get started.