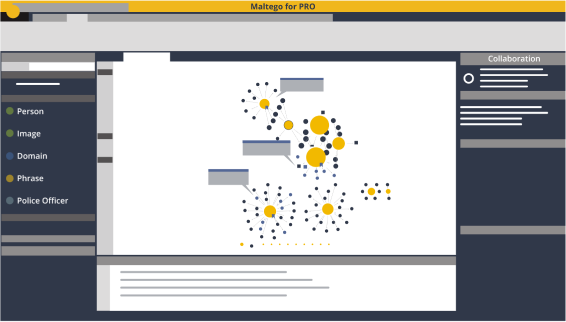 Maltego Desktop Client for Professionals:
Customization & Collaboration
The Maltego Desktop Client empowers investigators to deep-dive without the need to clean and sort data manually:
Ability to import and export data, explore with views and layouts and quickly pivot to other data sources
Full customization through Entity, Property and Transform design
Live collaboration including chat, both on-premise and in the Cloud.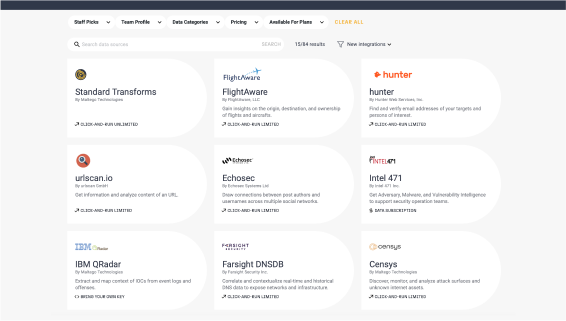 Extensive Data Integrations:
Even More Data at Your Fingertips
In the Pro Transform Hub you can choose from a variety of data integrations:
Access to OSINT data sources available
Paid access to commercial Transforms
CaseFile Entities
Access to Pro data integrations available
Explore
Secure Infrastructure
The Maltego Community Cloud
For our Pro users, Maltego runs on the Maltego Community Cloud.
Standard Transforms and collaboration capabilities are routed via the Maltego public Transform server.
Support Services:
Email us for Guidance
Whether you are just getting started or need help with advanced features, our support team is here for you!
In case of any issues, our Maltego Pro users can simply contact our support team through our Support site.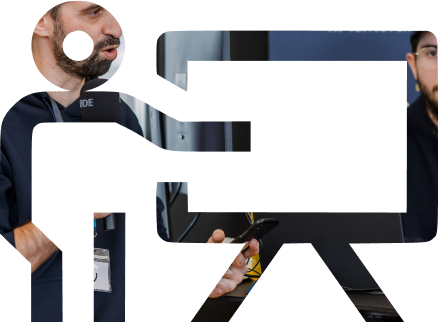 On-Demand Learning and Training:
Learn at your own Pace
As a Maltego Pro user, benefit from a range of resources for self-paced learning:
Online documentation
Free learning resources
On-demand courses
Start learning
Cyber Security Operations
Learn more
Accelerate complex SOC investigations from hours to minutes
Law Enforcement
Learn more
Access distributed data in one place, analyze intelligence & collaborate
Trust & Safety
Learn more
Fight fraud, abuse and insider threat with Maltego