You have been redirected from paterva.com. Maltego.com is the new home for all information regarding Maltego products. Read more about this in a message
from the Paterva team
and in this
blog post
and
FAQ
.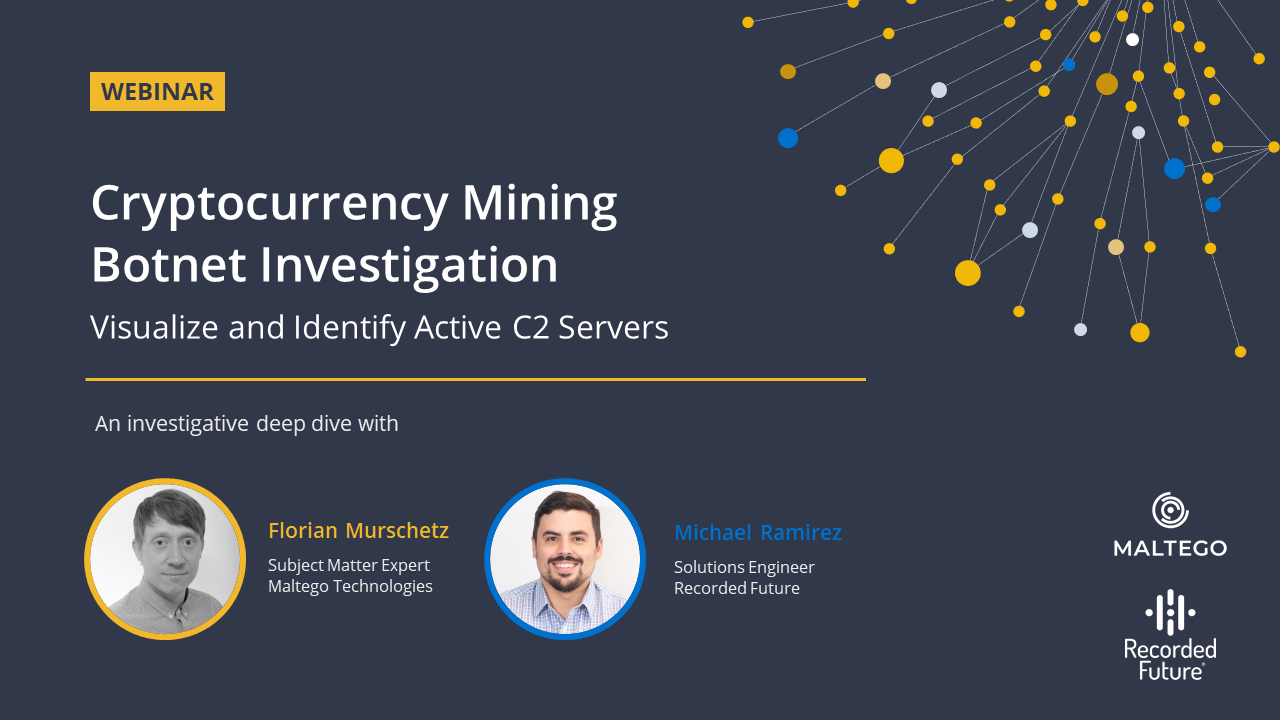 18 May 2021
Webinar | Cryptocurrency Mining Botnet Investigation: Identify Active C2 Servers Using Maltego and Recorded Future
While we cannot control the inevitability of criminal hacker attacks, we can control their impact by leveraging the right intelligence and acting fast.
Webinar | Cryptocurrency Mining Botnet Investigation Using Maltego and Recorded Future 🔗︎
This webinar demonstrates how the Recorded Future integration in Maltego can be leveraged to combine and visualize powerful real-time security intelligence and infrastructure data in a single interface to inform and prioritize risk decisions. By tapping into security intelligence and visualizing connections, even the threat from advanced and dangerous crypto-mining botnets can be effectively managed.
In this webinar, you will learn: 🔗︎
How to streamline investigation workflows with a unified view of intelligence
How to quickly and easily validate observables, enrich IOCs with malware feeds, APT reports and OSINT data
Advanced techniques to identify up-to-date crypto-jacking campaigns
Deep dive into a real-world case study on investigating a cryptocurrency mining botnet
Meet the Speakers 🔗︎
The speakers of this webinar are Florian Muerschetz from Maltego and Michael Ramirez from Recorded Future.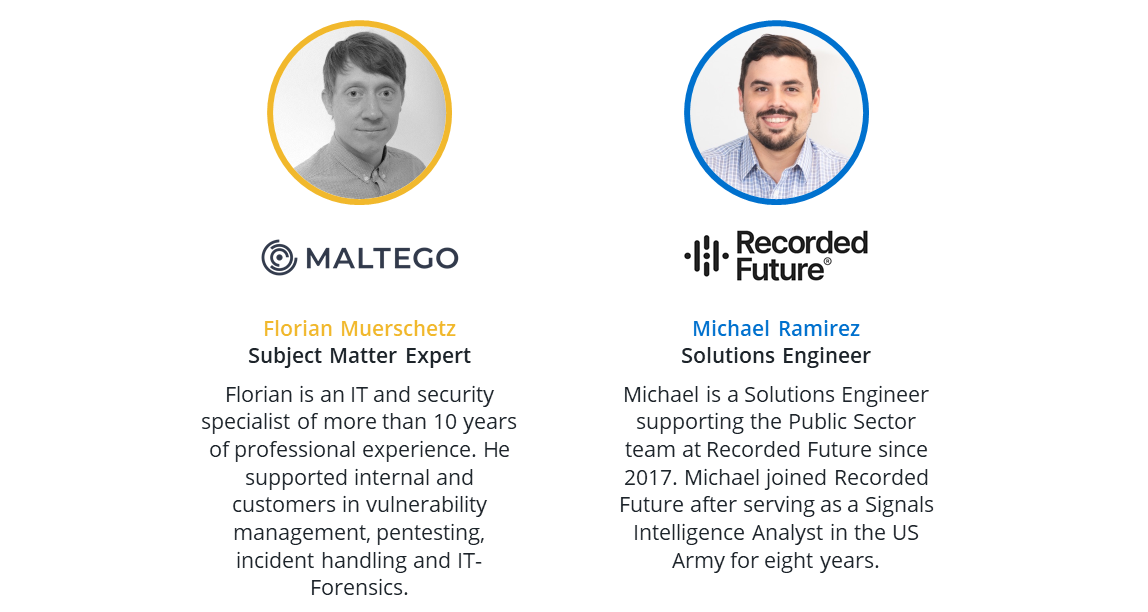 Download and watch this webinar now to learn how investigators can combine real-time threat intelligence from the entire web and Maltego to discover, validate, and contextualize IOCs in the case like a cryptocurrency mining botnet investigation.
Don't forget to follow us on Twitter and LinkedIn and subscribe to our email newsletters to receive updates on the latest webinars, case studies, and tutorials!
About Recorded Future 🔗︎
Using a sophisticated combination of patented machine and expert human analysis, Recorded Future fuses an unrivaled set of open source, dark web, technical sources, and original research to deliver relevant threat insights in real time. The Recorded Future Transforms for Maltego provide context on IP addresses, domains, hashes, malware, and vulnerabilities, making it simple and fast to access elite intelligence for deeper investigations and empowering security teams to identify threats faster.
Access to Recorded Future Data in Maltego 🔗︎
The Recorded Future data integration in Maltego is available for all Maltego commercial users with a Recorded Future APT key. For more information about accessing Recorded Future data in Maltego, please visit our Transform Hub detail page here .
Pick the right product and get started.