Happy Cybersecurity Awareness Month! In celebration of October, we at Maltego are excited to introduce the OSINT October campaign and the Women in OSINT Spotlight Series!
OSINT October: Women in OSINT Spotlight Series 🔗︎
We started OSINT October as a campaign to help both beginners and advanced practitioners brush up their OSINT skills. As part of the campaign, we interviewed women who are actively practicing and conducting OSINT investigations, to build a platform for them to share their OSINT journey, recent projects, and tips for those who aspire to start out in the field.
Stay tuned for daily OSINT tips, resources, news, and spotlights on the Maltego Twitter and LinkedIn channels.
Welcoming Rae Baker: A Graphic Designer Turned Senior OSINT Analyst & Educator 🔗︎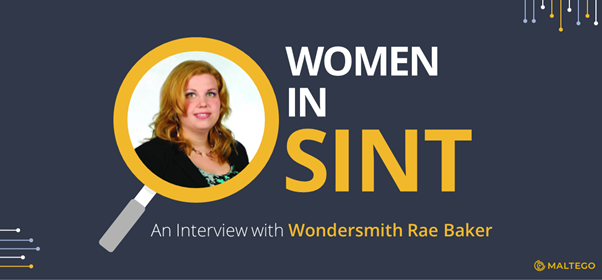 Our third guest for the Women in OSINT Spotlight Series is Rae Baker!
After spending more than 15 years as a graphic designer, Rae Baker decided that it was time for a career change. Now, she is passionate about corporate reconnaissance and scam/fraud tracking and currently works as a Senior Open Source Intelligence Analyst for a large consulting firm.
As an OSINT Curious Advisory Board member, Rae also works closely with other OSINT practitioners in the field to educate and inspire within the OSINT community. Additionally, she is the Open Source Intelligence team lead with Operation Safe Escape, which is a 501(c)(3) non-profit comprising of security professionals tasked with keeping domestic violence victims hidden from their abusers, a volunteer with Innocent Lives Foundation, as well as a Trace Labs Black Badge winner.
In this interview, we will dive into her experiences as someone starting in OSINT from scratch and becoming a well-known OSINT blogger, researcher, and advocate and her tips and recommendations for those who are on the same path.
Let's jump right into it!
Listen to the full interview on our YouTube channel.
Thanks for joining us, Rae! Would you tell us a little bit about yourself and how you got into OSINT? 🔗︎
Rae: Thanks! I'm relatively new to OSINT and cybersecurity in general, probably only for about two and a half years now. I was doing graphic design for about fifteen years and I like art directing, but art does not make as much money as tech. That was a big motivator and I was sick of doing the same things over and over again. I felt that I didn't put a lot of effort into it when I went through school the first time, so I decided to go back to school. And when I made that decision, I thought, "If I'm going to spend this money, I'm going to go all in."
I started going back to school at Penn State for cybersecurity and have been putting myself out there—writing blogs and doing talks. I have all this marketing background and I know social media marketing, so I think that helped. It's been very fun since and now I work in a large consulting firm doing OSINT all day. It's fantastic.
Why did you choose OSINT specifically? 🔗︎
Rae: I had never heard of OSINT. I knew that I enjoyed true crime—I've done a few talks on true crime and I keep a spreadsheet of everything I've ever watched or listened to relating to true crime. I can never be a cop or detective, but I would love to do investigations.
I went to the Layer 8 Conference two years ago in Rhode Island with a Penn State team, where they were doing a Trace Labs event finding missing people using OSINT. I did it, and I was like, this is great.
This is such a mix of everything I love in that world. True crime, investigations, cybersecurity—it just came together, and it was perfect.
Is that what's kept you in the field? Do you still participate in that kind of activities? 🔗︎
Rae: Yes, I do. I've judged, I'm played—I don't even know how many times now—and I've won. My team and I won the Trace Labs Black Badge at DEFCON this year. I'm kind of bowing out a little just because I played so many times, but I help out on the back end. Sometimes I help make the contesting guide. In my work life, I do investigations. In my private life, I do these competitions and events for fun as they show up.
How do you pick your research topics? 🔗︎
Rae: I pick them based on what sounds interesting to me. If you go online and look around, you'll find a scam. I get like, how many phishing texts a day that I could investigate. And once I started writing a blog, some people come to me with stuff. In the OSINT Curious Discord, we have a side group to share fun things to investigate and we it as a group. Sometimes I just happen to come cross them. Other times, I go looking.
It doesn't have to be something big. Just something that is interesting to me and I feel like I can put hours into looking at it. Then I will go forward.
Would you tell us a bit about a recent investigation you dove into? 🔗︎
Rae: A very prolific and exciting investigation I've been doing is the puppy scam. A few other people started looking into this woman who is selling fake dogs online for tens of thousands of dollars. After you put down a down payment, you go to the airport to pick up the puppy, only to discover that it is actually not there.
I did an initial investigation, wrote a blog a year ago, and kind of keep up on where she is. I have an email set up where people would send me tips and information. I feel like I'm going to catch her, but I have not yet.
You are also known for maritime OSINT. How did you start researching maritime? 🔗︎
Rae: I guess a lot of my career in OSINT has been just being in the right place at the right time, doing something random. I was looking for something that people haven't written about. I came across the maritime blog, started researching it, and put out a blog about maritime OSINT and some techniques for researching. It kind of took off. People were pretty interested about it. I was confused because I was just trying to teach myself how to do it. So, I started writing more and giving talks, and now I'm the maritime OSINT person. It's very weird, but I'm very interested in maritime stuff. I track ships all day long. That's very exciting.
What are you trying to find out about the ships, for example? 🔗︎
Rae: I think people don't realize how the sea is such an open crime area where people just do whatever they want. I look for people smuggling oil illegally to get around sanctions. I kind of monitor and watch how ships are interacting and moving. I watch Russia because of the northern sea routes. I watch China and all those hot spot areas. There's a lot going on there.
Ships don't really report who they are half the time, and they turn off their satellite and do their criminal activities before flipping it back on. You don't know what they've done in that period—they could be smuggling forty humans across the sea, you know?
What kind of tools do you use for this type of investigations? 🔗︎
Rae: I use a lot of free tools like VesselFinder and MarineTraffic, with which you can track ships in real time. The problem is, there is a paywall if you want to see the history of the ships' locations. So, a lot of it is piecing it together between social media—what other people monitoring the areas or ports are posting about the ships. You still have to verify the information, but once you put all that together, you can get a larger picture of what's going on without going past the paywall.
A lot of times when you're looking around, if you're new, you can be overwhelmed. Like, this thing cost 10,000 dollars. I don't have it. How am I ever going to learn? But if you go on Twitter and follow OSINT people there, they are posting talks, tips, videos, how-to's. You just have to sit down and try it.
There's More: Listen to Our Full Interview with Rae! 🔗︎
If you find the snippets of the interview interesting, don't miss the full interview!
Listen to our full interview with Rae to learn more about:
Her experience as a blog author and tips for those who want to start
The OSINT resources, tools, and events she recommends for beginners
The three most important things that have helped her become an OSINT expert
Her views on the OSINT community and how one can approach it
Check out Rae's work on her blog and Twitter!
Don't forget to follow us on Twitter, LinkedIn, and YouTube and subscribe to our email newsletter, so that you never miss an update, tutorial, or interview like this.
Happy OSINT!