You have been redirected from paterva.com. Maltego.com is the new home for all information regarding Maltego products. Read more about this in a message
from the Paterva team
and in this
blog post
and
FAQ
.
Reduce your Cyber Risk with Maltego
Gain comprehensive and quick insights into your adversaries and protect your organization from cyber threats.
schedule a demo
Increase the Speed and Precision of Complex SOC Investigations

Access all your data in one UI.
Integrate internal data such as Splunk, ServiceNow, ELK, etc.
Enrich your investigations easily with hard-to-ingest OSINT data by the click of a button.​​
Integrate Threat Intel Feed providers such as CrowdStrike, Recorded Future, Flashpoint and more.​

Quickly analyze your data.
Quickly identify relevant data from SIEM alerts and enrich them with data relevant to your investigation.
Swiftly assess if a SIEM alert is a false positive or if the there is a real threat with Maltego's powerful visualization capabilities.​
Automate repetitive investigations using Maltego Machines.​

Collaborate with your team.
Easily collaborate and merge insights with your teams through live graph sharing.​
Share an easy-to-understand threat overview and investigation report within your organization.​
Easily integrate with existing workflows by pushing new insights into your SIEM or your ticketing system.
Optimize your Investigation Workflows​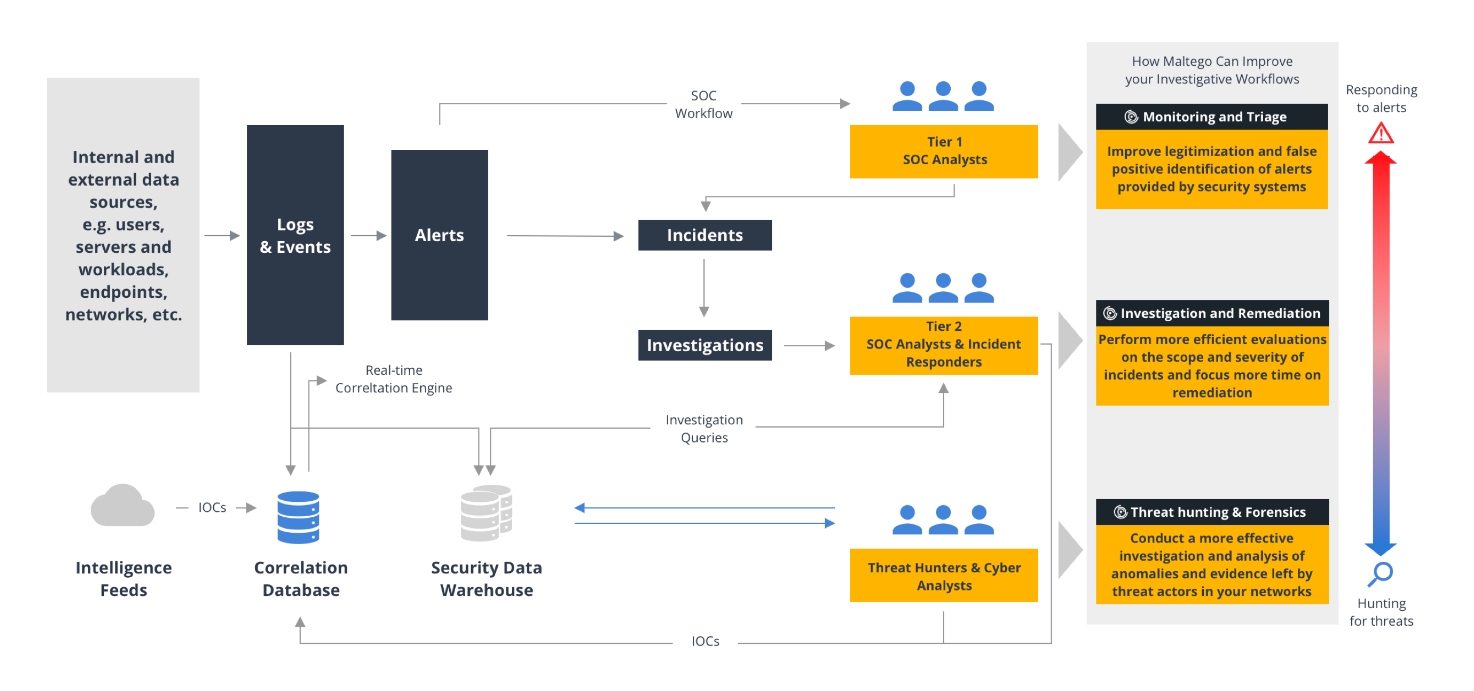 Improve legitimization and false positive identification of alerts provided by security systems​
Effectively contextualize alerts with easy integration of disparate private and third-party threat data and intelligence for a more efficient escalation process.
Improve SIEM detection rules and policies with new TTPs, IOCs and other relevant data through analysis with Maltego.​
Perform more efficient evaluations on the scope and severity of incidents and focus more time on remediation​
Seamlessly visualize data from SIEM systems to human analysis for a faster identification of compromised systems.
Easily assimilate and correlate data for future events, as well as higher-level reporting for different teams and stakeholders with shareable node graphs.
Conduct a more effective investigation of anomalies and evidence left by threat actors in your networks​
Determine root causes and remediate APTs, unknown vulnerabilities and security gaps that may compromise the enterprise network and assets with Maltego's integration and visual analysis capabilities.
Use Maltego for day-to-day tasks such as pentesting and contextualization of disparate threat intelligence and security data.
Featured Data Sources
Simplify and expedite your investigation by seamlessly integrating your preferred SIEM, threat intelligence provider or internal ticketing systems into Maltego.
Make it your own.
Customize your Maltego solution according to your investigative needs.​

Maltego application​
Choose from four versions of the Maltego application to match the scope of your investigation.​

Data sources​
Choose from public (OSINT), commercial and your own data sources.​

Deployment options​
Choose between your own cloud or ours or work completely offline.​

Support services​
Every Maltego user has free access to our documentation and support. In addition, we offer a variety of paid services to our customers.​