Happy Cybersecurity Awareness Month! In celebration of October, we at Maltego are excited to introduce the OSINT October campaign and the Women in OSINT Spotlight Series!
OSINT October: Women in OSINT Spotlight Series 🔗︎
We started OSINT October as a campaign to help both beginners and advanced practitioners brush up their OSINT skills. As part of the campaign, we interviewed women who are actively practicing and conducting OSINT investigations, to build a platform for them share their OSINT journey, recent projects, and tips for those who aspire to start out in the field.
Stay tuned for daily OSINT tips, resources, news, and spotlights on the Maltego Twitter and LinkedIn channels.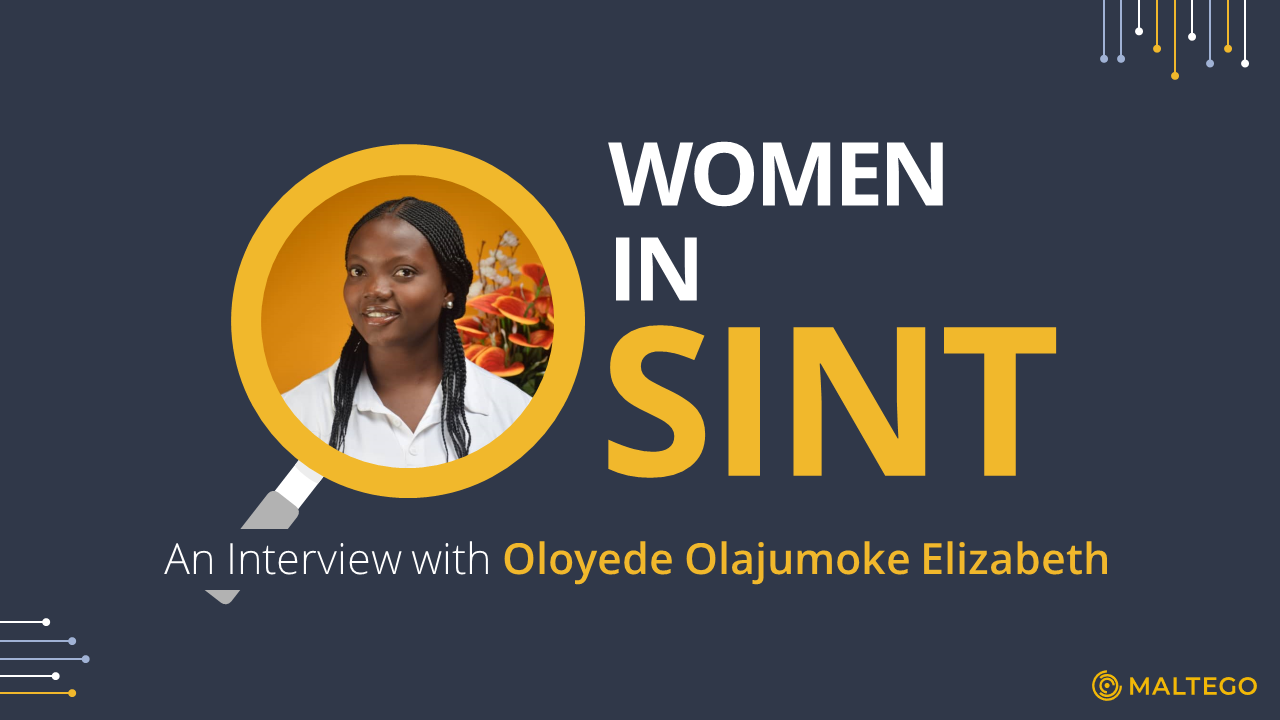 Welcoming Oloyede Olajumoke Elizabeth: SheSecures Africa and Cyber Threat Intelligence Analyst 🔗︎
Our second guest for the Women in OSINT Spotlight Series is Oloyede Olajumoke Elizabeth!
Elizabeth is a Cyber Threat Intelligence Analyst with 3 years of experience in this field. Her work involves identifying, developing, managing, and productively leveraging external relationships to enhance intelligence collection efforts. She also tracks potential threats, actors, intrusion and their sources as well as malicious infrastructure using OSINT tools and HUMINT techniques.
Besides working in threat intelligence, Elizabeth volunteers at SheSecures Africa, an organization advocating for African women working in the fields of information security and OSINT.
In this interview, we will dive into her experiences with using OSINT in her work, being a highly skilled woman in Africa, and the most important things that helped her become who she is.
Let's jump right into it!
Listen to the full interview on our YouTube channel.
Welcome Elizabeth! Would you tell us a bit more about yourself? When and why did you decide to go into OSINT? 🔗︎
Elizabeth: It's such a pleasure to be here. My name is Olajumoke Elizabeth. I am a cyber threat intelligence analyst with expertise in OSINT and HUMINT. I'm also a trainer and researcher.
I started OSINT at the end of 2019 when I got my first job as a cyber threat intelligence analyst. It was a 3-month, project-based job and thus there was no provision of tools ready for me to use. I dabbled with OSINT tools that were free!
You're also part of SheSecures Africa, right? Could you tell us a bit about SheSecures? 🔗︎
Elizabeth: SheSecures Africa is an online community for African women in cybersecurity. A very nurturing, valuable space. Part of its aim is to help, to train, to mentor, and to collaborate with all female professionals in the field of cybersecurity—from entry level to senior executives. It is also a refuge platform, where you can easily run to ask questions and find answers—like a troubleshooting ground. We share opportunities such as training, jobs, seminars, conferences that you might not even know about personally.
I'm a recipient of the benefit of SheSecures Africa and now, I'm also giving back to the newbies in the field. You know, cybersecurity is a career that's exciting. It keeps evolving every day and there are many things to learn.
That's great to hear. What resources or tips would you suggest for women just starting in OSINT? 🔗︎
Elizabeth: A mentorship helped me. While I was searching for my first job, I met my mentor in this interview. He brought me to a cybersecurity fair, gave me access to an online training course, and introduced me to a national project his team was working on. I gathered a lot of skills and experiences from my mentorship.
As for tools, they can jump on the train of free learning resources like on YouTube. I learned a lot from The OSINT Curious Project and so many other channels. I would also advise every woman in OSINT to participate in CTFs—Capture the Flags—and the OSINT challenges hosted by Trace Labs.
Another thing I think really helps is volunteering. Volunteer to groups that help. In Nigeria, there's the CyberSafe Foundation, which is doing very great.
The last thing is that they should belong to a group or community that lean together. For example, SheSecures Africa lean together to share resources and find skills that you want to have.
"Learning doesn't stop in cybersecurity. It needs to keep on going all the way all the time. Learning doesn't finish, so keep on learning."
As a woman, what is your experience being in a male dominance field like cybersecurity? 🔗︎
Elizabeth: It is worth sharing, really. The ratio of men and women in cybersecurity is gradually balancing out. That said, gender disparity is present in the field. I work a lot with male colleagues in my country and in Kenya, and there are a few—well, let's maybe say some—females who inspire me, who has taught me to be the best version of myself, who have interests in how females are doing in the field.
My experience so far is that even though it's a male-dominated field, it is still a good and positive place, and there are good opportunities for female cybersecurity analysts here in Africa, especially in Nigeria. I'm not too sure, but I want to believe that's how it is in other parts of the world. I have many people who call me great names, celebrate my little wins, and make me feel that I can do better.
There's More: Listen to Our Full Interview with Elizabeth! 🔗︎
If you find the snippets of the interview interesting, don't miss the full interview!
Listen to our full interview with Elizabeth to learn more about her journey in-depth:
How she started in cybersecurity and where she sees her career develop
How it is like to be a highly skilled woman in the African tech industry
How she got introduced to Maltego
What she would like to say to all women in OSINT and infosec
Check out Elizabeth's work on her Twitter and support SheSecures Africa!
Don't forget to follow us on Twitter, LinkedIn, and YouTube and subscribe to our email newsletter, so that you never miss an update, tutorial, or interview like this.
Happy OSINT!