Great news! To help improve your learning experience we have introduced new content and training modules to the Maltego website. Whether you are just starting out with Maltego, or are a seasoned user, we are developing the right learning solution to help you get the most out of Maltego's analytic capabilities and we are providing a platform where you can share your knowledge within the Maltego community.
The new and improved Maltego Training resources now include the following:
On top of that, the Maltego Community page further empowers our users to engage in Maltego's development and grow as a community by connecting, learning, and sharing knowledge.
Brand-New Maltego Learning Experience 🔗︎
On our new Maltego Learning & Training page, you can discover all our training and educational resources in one place. These include our technical documentation, tutorial video series, as well as our newly introduced on-demand courses and in-person training—both remote and on-premise.
Documentation and Free Learning Resources 🔗︎
Just as you do today, you can continue to find our free resources, ranging from our online documentation to blog articles, whitepapers, case studies and webinars through the top-level navigation on our website or on the new Maltego Training webpage.

If you've paid a recent visit to our online knowledge base, you may have spotted some changes. We've worked hard toward updating and improving the documentation and site navigation. We've also introduced a guide-like approach to support users who are just getting started and to empower advanced users and developers. In the future, we will be introducing a forum to spur interaction and knowledge exchange within the Maltego online community.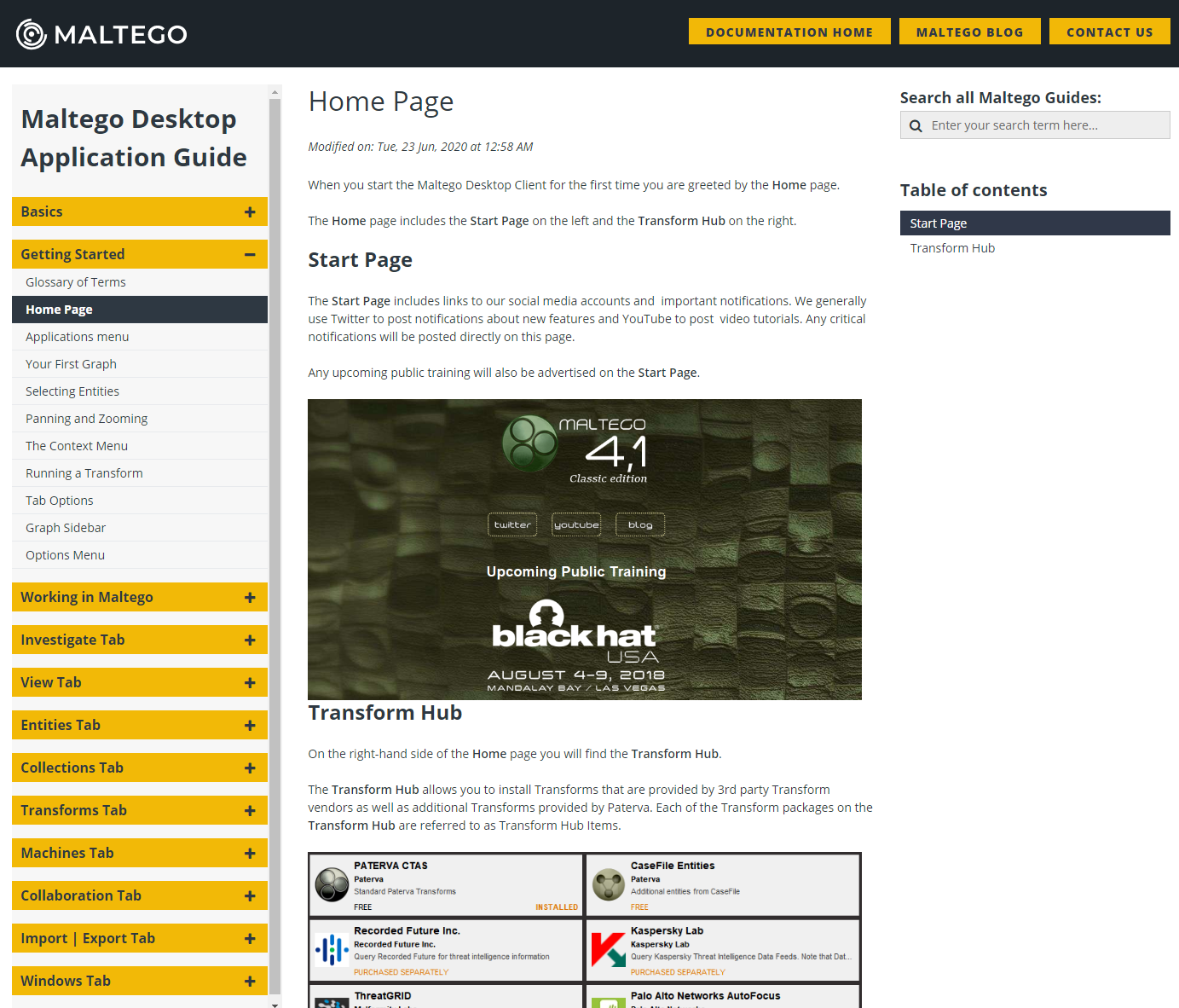 Maltego Essentials: Video Tutorials 🔗︎
Apart from the text-based learning materials, we also recently launched our new 10-part Maltego Essentials video tutorial series to equip you with all the essentials you need to start investigating with Maltego.
These videos are available for all Maltego users on our YouTube channel, where we will be releasing more tutorials and useful guides in the future.
Introducing Maltego Learning Platform: On-Demand Courses and In-Person Training 🔗︎
This week, we are proud to launch the Maltego Learning platform, where you can access our on-demand courses or book in-person training sessions. You can find the new learning platform under "Product" or "Resources" tabs on our top navigation bar. These resources are created to offer a variety of learning approaches and focuses. You will be able to enhance your Maltego skills in ways that best suit your learning style and needs.
As part of the launch, we are rolling out the first (limited release) course, "Maltego Foundations," on our online learning platform. Maltego Foundations is a series of online courses that are perfect for you to jump start into the basics of performing investigations with Maltego.
Maltego's Pro and Enterprise plan users have the option to purchase or subscribe to these on-demand courses. You can acquire access by providing your plan detail here.
In celebration, we are offering free access to Maltego Foundations online courses to the first 100 learners who sign up. As a first learner, your feedback will help us greatly in improving the learning experience. Sign up here to become our first learners and access the course for free!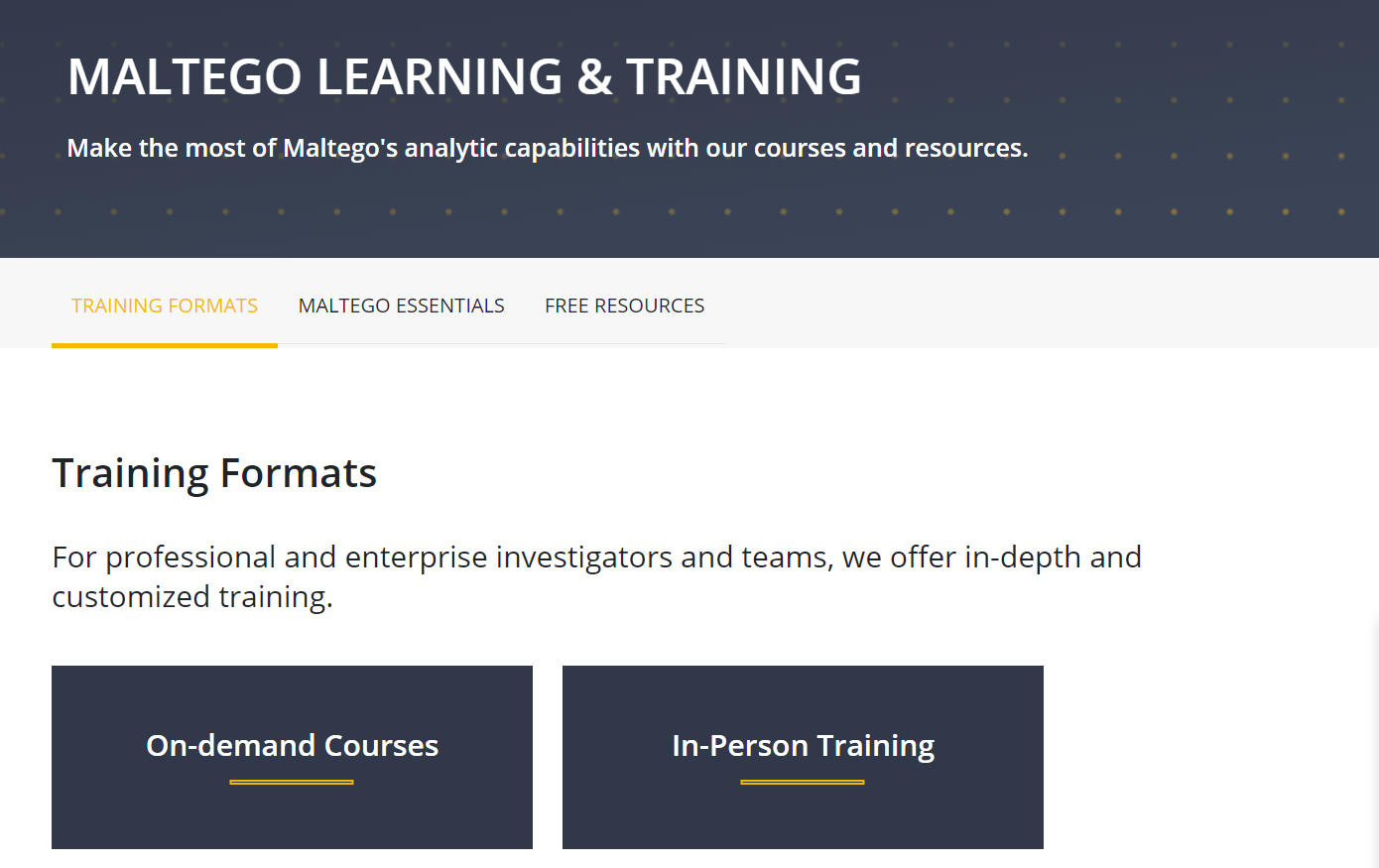 In the coming months, we will be adding advanced learning courses that will guide you through unlocking the full power of Maltego.
Besides online courses, we also offer in-person training, both remote and on-premise, for teams and enterprises. To learn more about these, please submit your inquiry using the link below.
Maltego Community 🔗︎
Our incredible community, ranging from students to enterprise customers, and pentesters to investigative journalists, is the driving force behind Maltego! With our new Community page we want to make it easier to connect, learn and share knowledge and, as a community, empower our users. There are many opportunities to get engaged. We would love to hear your suggestions for new data integrations, collaborate with you on content creation or organize a meetup.
All of these improvements aim to provide you with an immersive learning approach and equip you with the educational content that you need to make the most of your Maltego experience!
To explore and customize your learning options or to give us feedback, email support@maltego.com. Don't forget to follow Maltego's Twitter and LinkedIn channels, or subscribe to our email newsletter to keep up to date with new developments.