Maltego Community Edition (CE) is the free and non-commercial version of the Maltego Desktop Client, offering the quickest way to get started with Maltego. While the CE edition is limited in its capabilities, it can help users carry out OSINT and graphical link analyses. In this quick beginners' guide, we show you how to set up your CE.
Downloading Maltego 🔗︎
You can download Maltego CE here.
Alternatively, if you are using any of the following GNU/Linux distributions, Maltego CE comes pre-installed:
Now, you just need to register for a Maltego CE user account to use.
Registering for Maltego CE account 🔗︎
Maltego CE requires an active Maltego community user account, which can be created here.
Once registered and activated, you shall be using this account for using Maltego CE.
Logging in to Maltego CE 🔗︎
When you run Maltego for the first time, and you agree to the License Agreement and log in with your Maltego community user account: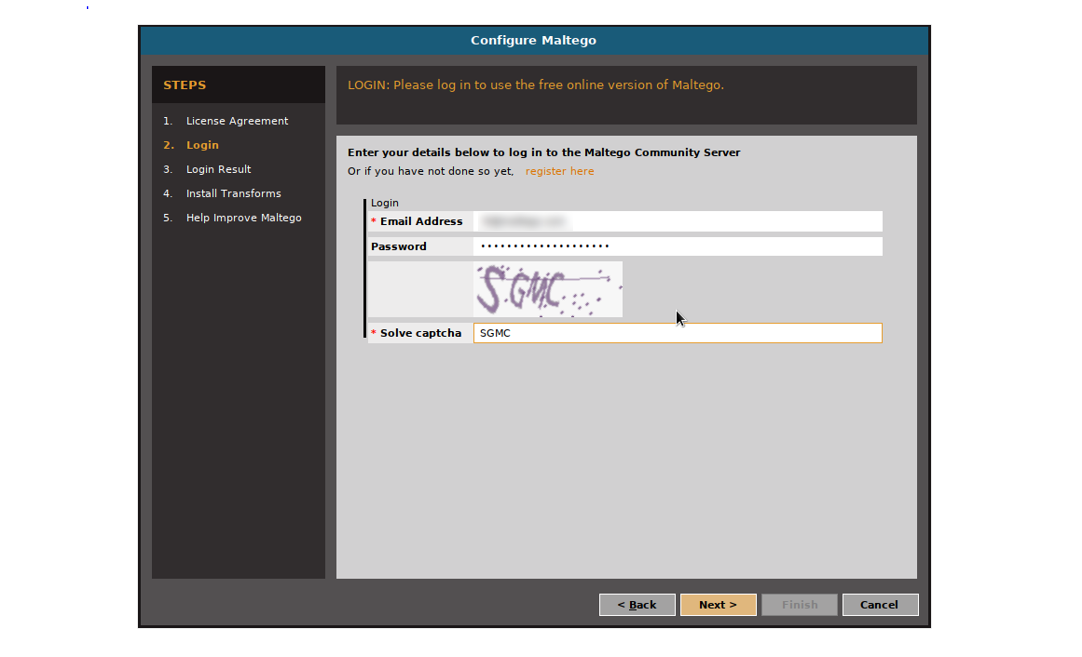 Click Next > to finish configuring Maltego CE. You are now ready to start using Maltego CE.
Now you are ready to start exploring. Read our documentation to get started. A common use case for Maltego is for network footprinting within the reconnaissance process. Check out our blog post about network footprinting with Maltego Machines to learn how Maltego can help structure and speed up the footprinting process. We will continue to publish more exciting use cases on our blog, so make sure to stay tuned!
If you have any questions about this post or using Maltego CE, reach out on Twitter @MaltegoHQ and follow us to stay tuned with what's fresh in the Maltego world.