You have been redirected from paterva.com. Maltego.com is the new home for all information regarding Maltego products. Read more about this in a message
from the Paterva team
and in this
blog post
and
FAQ
.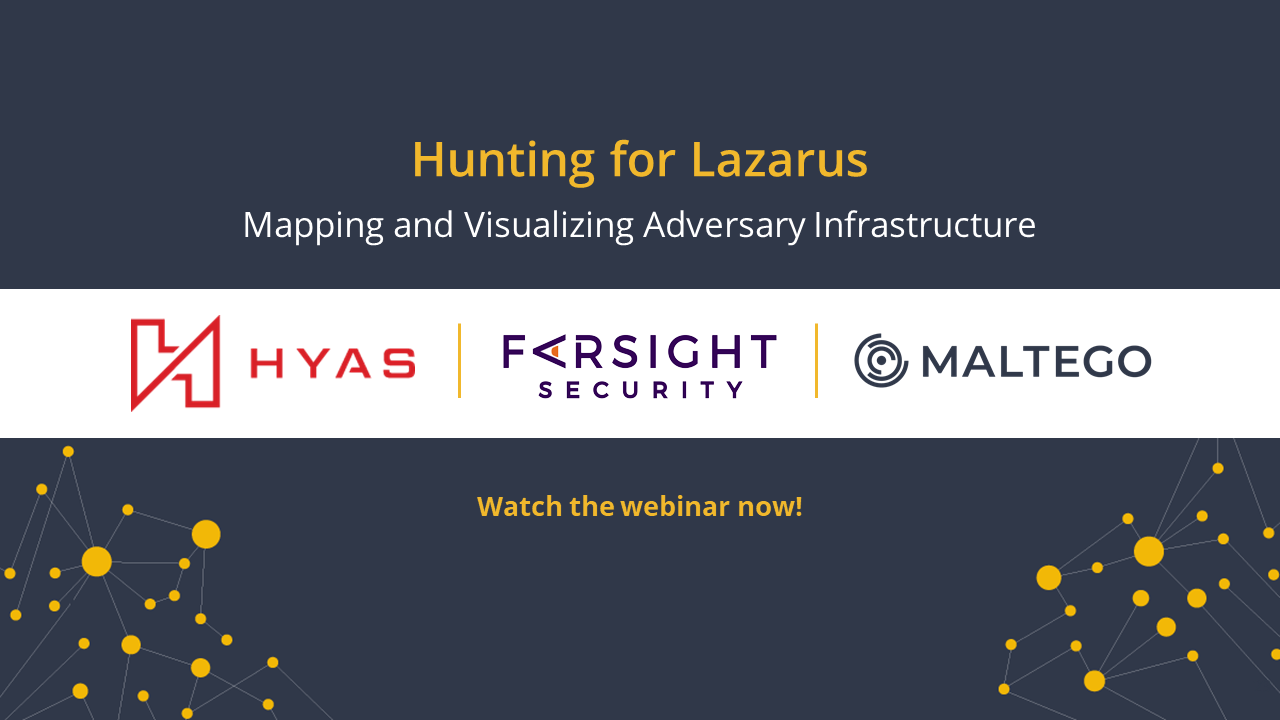 30 Apr 2021
Webinar | Hunting for Lazarus: Mapping and Visualizing Adversary Infrastructure
As targeted cyber-attacks by notorious adversaries like North Korea's Lazarus Group increase in number and sophistication, enterprises struggle to identify and counter attacker infrastructure. Organizations must quickly identify threat actor infrastructure and its evolution behind cyber risks, in order to prevent future attacks, and safeguard their companies against financial and reputation losses.
Webinar | Hunting for Lazarus Threat Actor Group Using Maltego, HYAS, and Farsight 🔗︎
This webinar demonstrates how investigators leveraging Maltego's visualization capabilities can combine HYAS' adversary infrastructure insights with the passive DNS data from Farsight to obtain actionable intelligence.
In this webinar, you will learn: 🔗︎
How to take incident data & expand it into a more complete picture of adversary infrastructure
How passive DNS, domain registration details, and GeoIP data enable tracking actors over time
How real-time DNS can expose attack infrastructure & help threat hunters preempt attackers
Best practices in streamlining threat investigation workflows
Meet the Speakers 🔗︎
The speakers of this webinar are Roy Boetticher from Maltego, Brain Carter from HYAS, and Boris Tarantine from Farsight DNSDB.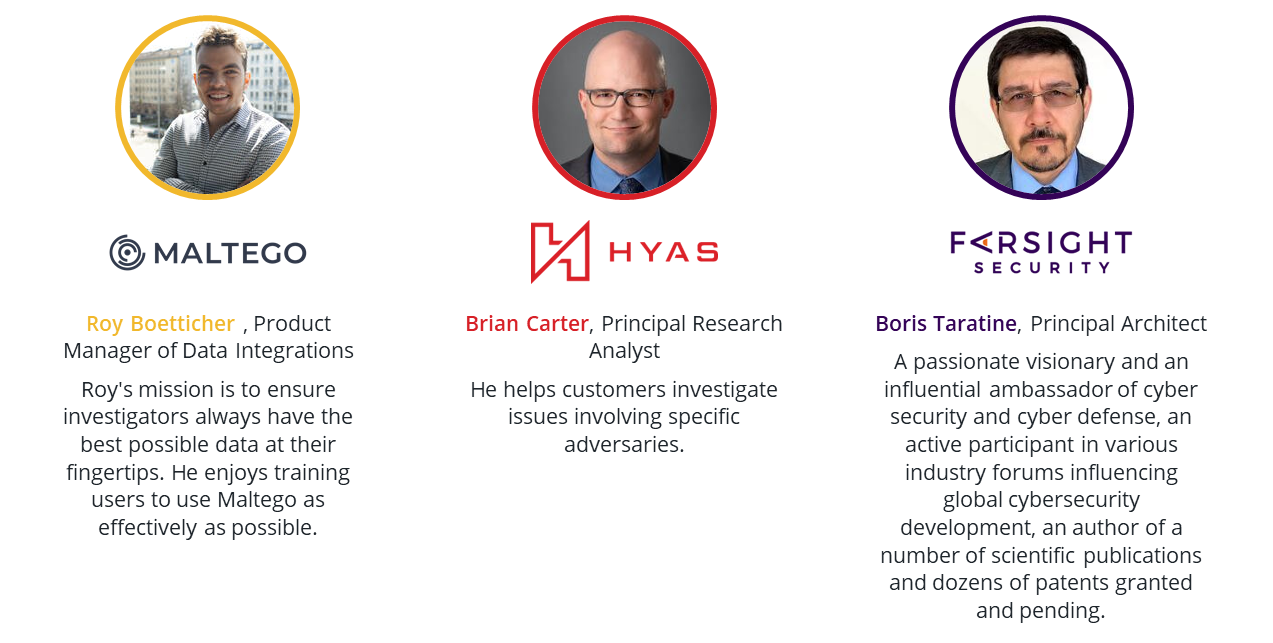 Download and watch this webinar now to learn how these technologies combine to enable threat intelligence teams, cyber security analysts and government agencies to analyze, enrich and visualize relationships in attacker infrastructure, and take down threats and adversaries.
Don't forget to follow us on Twitter and LinkedIn and subscribe to our email newsletters to receive updates on the latest webinars, case studies, and tutorials!
About HYAS and Farsight DNSDB 🔗︎
HYAS Infrastructure Insights 🔗︎
HYAS Insight is a threat and fraud investigation solution using exclusive data sources and non-traditional mechanisms that improves visibility and triples productivity for analysts and investigators while increasing accuracy. With HYAS Insight Transforms for Maltego , investigators can query and visualize exclusive, in-depth database of compromise indicators gathered from multiple proprietary sources extending years into the past, allowing investigators to better fingerprint events, actors, and infrastructure.
Access to HYAS Data in Maltego 🔗︎
You can access HYAS data in Maltego by purchasing a HYAS subscription. For more information about accessing HYAS data in Maltego, please visit our Transform Hub detail page here .
Farsight Passive DNS Intelligence 🔗︎
Farsight allows investigators to correlate and contextualize with real-time and historical DNS intelligence; also known as passive DNS data. Using Farsight Transforms for Maltego, users can expose entire networks, gain an outside-in view of their infrastructure, and pivot across DNS record types. The Wildcard searches help expose hostnames/FQDNs, associated domains, and further pivoting across IPs to expose all associated domains, FQDNs, IPs, MX, NX, and other record types.
Access to Farsight Data in Maltego 🔗︎
The Farsight Hub item is free to access for both community and commercial Maltego users through a free trial or a 30-day trial, with respective Transform limits. The full solution without Transform limits requires a Farsight DNSDB subscription. For more information, please visit our Transform Hub detail page here .
Pick the right product and get started.