You have been redirected from paterva.com. Maltego.com is the new home for all information regarding Maltego products. Read more about this in a message
from the Paterva team
and in this
blog post
and
FAQ
.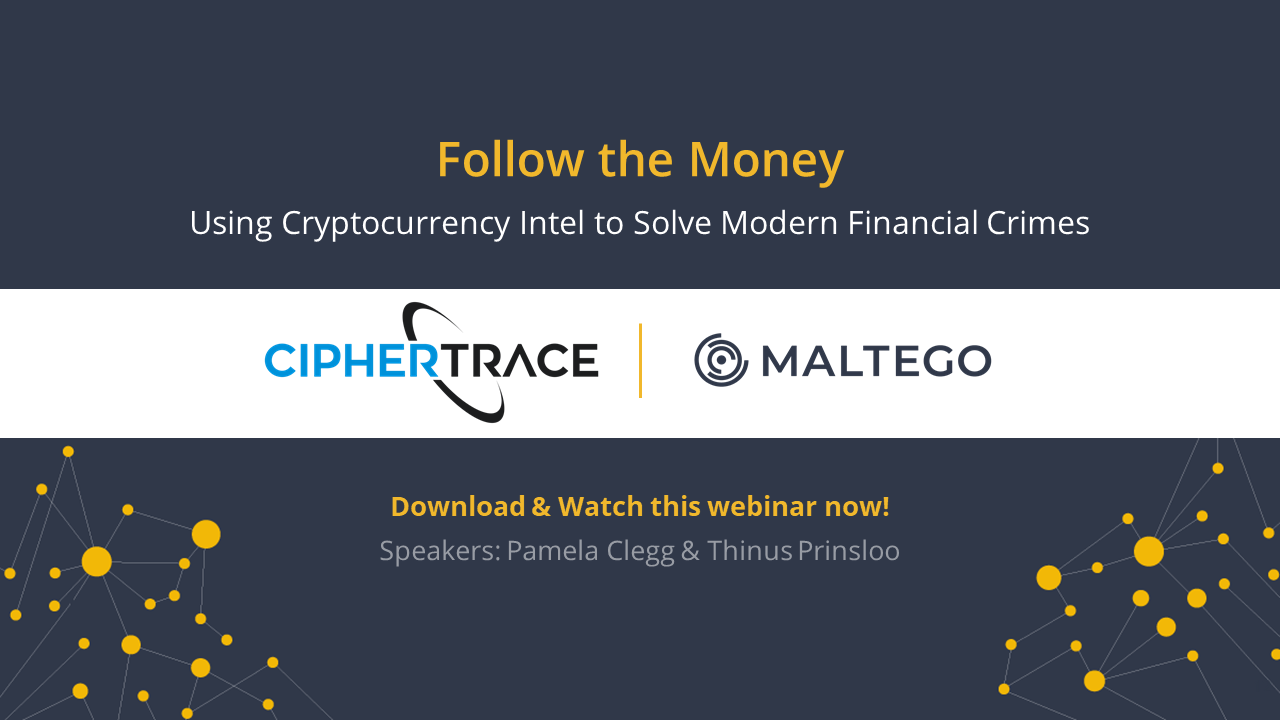 23 Feb 2021
Webinar | Follow the Money: Using Cryptocurrency Intelligence to Solve Modern Financial Crimes
In recent years, law enforcement agencies and financial institutions globally have struggled to not only regulate the use of virtual currency but also to develop the right tools to manage risk in this dynamic and evolving industry.
About CipherTrace Cryptocurrency Intelligence 🔗︎
CipherTrace provides powerful and easy-to-use cryptocurrency intelligence for tracing Bitcoin, Ethereum, Bitcoin Cash and Litecoin currencies. The CipherTrace integration in Maltego enable investigators to de-anonymize transactions and obtain evidence on individuals who use complex cryptocurrency transactions to launder money, finance terrorism, or carry out drug dealing, extortion, and other crimes.
Access to CipherTrace Data in Maltego 🔗︎
You can access CipherTrace data in Maltego by purchasing a flexible data bundle subscription or brining your own API key. For more information about accessing CipherTrace data in Maltego, please visit our Transform Hub detail page here .
Webinar | Solving Cryptocurrency Financial Crimes with CipherTrace and Maltego 🔗︎
This webinar demonstrates how financial institutions, law enforcement, and analysts can trace and de-anonymize Bitcoin and Ethereum transactions by visualizing CipherTrace data in Maltego. We will deep dive into a Bitcoin investigation use case conducted by CipherTrace, explore Ethereum transactions in Maltego, and walk through a due diligence process involving cryptocurrency and other OSINT data sources.
In this webinar, you will learn: 🔗︎

1. Introduction to CipherTrace Cryptocurrency Data and Maltego 🔗︎
Basic introduction to cryptocurrency and what CipherTrace cryptocurrency intelligence entails
Using link analysis techniques to map and visualize cryptocurrency movements in Maltego
2. Use Case: Investigating Cryptocurrency Movements and Activities of A Sanctioned Organization 🔗︎
Looking into a cryptocurrency donation campaign and related transactions of a sanctioned organization in the CipherTrace database
How law enforcement agencies can trace incoming and outgoing Bitcoin movements and identify funds originated from a single target source
How law enforcement agencies can acquire comprehensive evidence of a complex Bitcoin transaction such as its source origin in subpoenas and other legal orders
3. Use Case: Exploring CipherTrace Ethereum Information in Maltego 🔗︎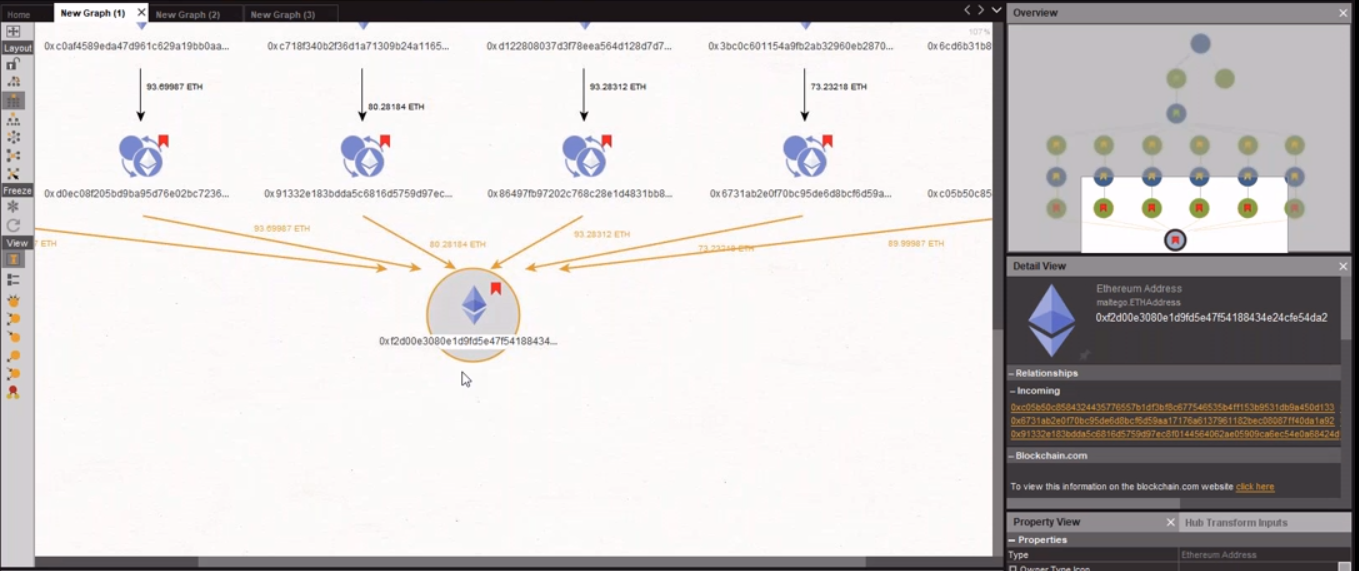 Querying incoming and outgoing cryptocurrency transactions using CipherTrace Transforms in Maltego to identify the final destination address in a million-dollar SIM swap hack case
Using built-in filters like date range and CipherTrace risk scores to accurately pinpoint transactions relevant to a certain investigation
Identifying the cryptocurrency exchange involved in the cryptocurrency activities for subpoenas and legal compliance
4. Use Case: Netwalker Ransomware Investigation for Due Diligence using CipherTrace, Maltego, and OSINT 🔗︎
Part 1: A cyber security investigation on the Netwalker ransomware to understand the history and extend of the malware as well as obtain a list of indicators of compromise (IoCs) from various threat intelligence data sources using Maltego
Part 2: Conducting due diligence using the ransom cryptocurrency address to identify sanctioned groups and the pattern of cryptocurrency movements
Download and watch this webinar now to deep dive into cryptocurrency intelligence and investigations with CipherTrace and Maltego!
Pick the right product and get started.