At Maltego, we are committed to helping investigators increase the speed and precision of their investigations by providing a single platform to integrate all their data, quickly analyze it, and share insights with fellow investigators and team members.
As part of this commitment, we are pleased to share the launch of our latest data subscriptions for CipherTrace, to help make your Maltego experience even better by simplifying data access. CipherTrace provide powerful cryptocurrency intelligence for law enforcement, fraud and cybercrime teams, and threat intelligence teams. Data subscriptions are a flexible and affordable way to integrate this intelligence into your investigations.
How do Investigators Use CipherTrace Data in Maltego? 🔗︎
CipherTrace provides law enforcement agencies and financial institutions with powerful and easy-to-use cryptocurrency intelligence for tracing Bitcoin, Ethereum, Bitcoin Cash and Litecoin currencies.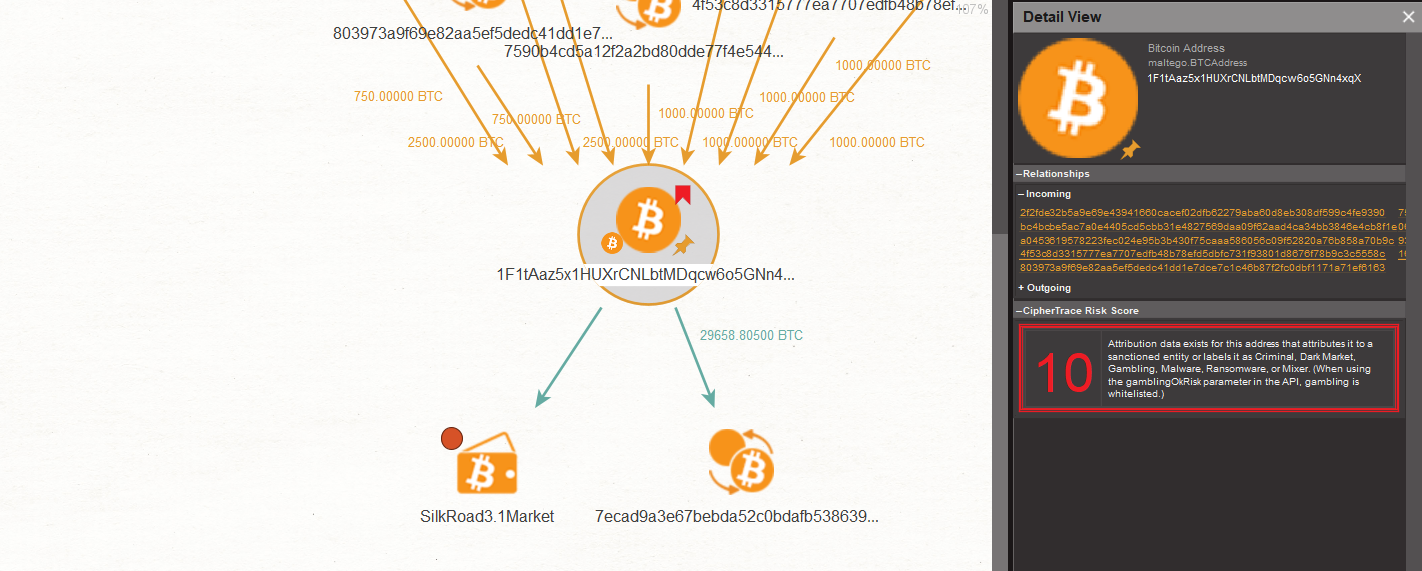 The key advantage of the CipherTrace integration in Maltego is that it allows even non-technical researchers and analysts to easily identify and trace criminals who attempt to cover their tracks using cryptocurrencies. Furthermore, this data can be combined with other OSINT and forensic sources to build a comprehensive picture. To learn more, read about how to identify risky bitcoin transactions using CipherTrace blockchain intelligence.
What Our Users Are Saying 🔗︎
Nick Furneaux, MD CSITech:
"I have been an avid user and advocate of Maltego for many years, using it especially for internet infrastructure mapping. However, its automated search and graphing capabilities make it perfectly suited for creating cryptocurrency transaction maps. The Ciphertrace Maltego plugins harness that power and provide a quick way to visualize the flow of cryptocurrency coins whilst critically giving the user access to the Ciphertrace Bitcoin address identification database. This can provide a user with a lower cost entry point into address identification, essential for any successful investigation. If you are a Maltego user or are looking for a low cost entry into address identification, I highly recommend it."
What CipherTrace Data Subscriptions are Available? 🔗︎
For CipherTrace, we offer Small, Medium and Large data subscriptions, each offering a fixed number of Transform runs per month. These data subscriptions can be purchased on an annual subscription basis.
In addition, we also offer Pipl data subscriptions on both monthly and annual subscription bases, starting at $49 per month!
How to Purchase Maltego Data Subscriptions 🔗︎
Customers who are interested in utilizing CipherTrace data subscriptions can simply find the data subscription that fits their data requirement on our Transform Hub webpage and purchase it in our web-shop. Please note that every purchase is subject to a vetting process in line with the terms of use of the third-party data provider. Access is generally reserved for professional investigators who are commonly associated with an organization.
If you're interested in learning more about data subscriptions and all the ways to access data within Maltego, read the Introducing Maltego data subscriptions blog post or read our FAQs.
Follow us on Twitter and LinkedIn and subscribe to our newsletter to stay tuned for more product updates. Coming soon, you can expect many more data subscriptions to enhance your investigations!