You have been redirected from paterva.com. Maltego.com is the new home for all information regarding Maltego products. Read more about this in a message
from the Paterva team
and in this
blog post
and
FAQ
.
Cybercrime Investigations in Law Enforcement
Access distributed data in one place, analyze intelligence and securely collaborate on investigations against cybercrime.​
schedule a demo
Download Product Brief
Increase the Speed and Precision of Complex Cybercrime Investigations
Evidence processing​

Access all your data in one UI.
Integrate data from your case management system, forensic tools and other databases​
Safely and anonymously pull in all sorts of OSINT data without revealing your IP
Access dark web and social media data from third party intel providers in one place​
Case investigation​

Quickly analyze your data.
Access dark web and social media data from third party intel providers in one place​
Visualize all relevant data to your case for a faster identification of connections and patterns
Automate repetitive tasks and speed up investigations with Maltego Machines​
Case building

Collaborate with your team.
Easily collaborate and share insights on digital evidence via live graph sharing​
Provide reports on digital evidence to help the prosecution team bring criminals to justice​
Help solve future investigations by pushing insights back into your case management system​
Optimize your Investigation Workflows​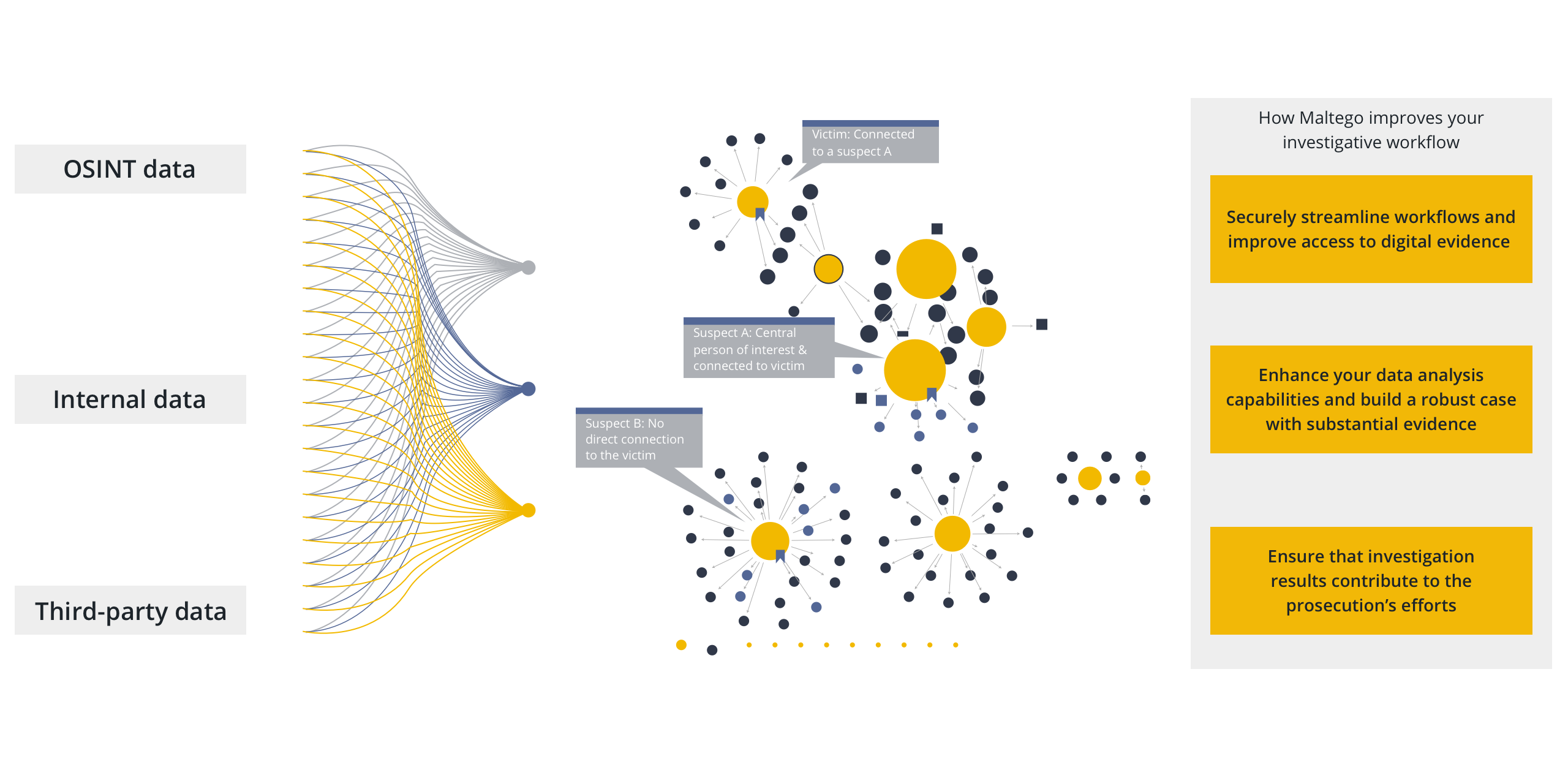 Securely streamline workflows and improve access to digital evidence
Access and contextualize relevant internal data with OSINT and third party intel.
Customize the tool according to access rights.
Improve your case management system and other relevant databases.
Enhance your data analysis capabilities and build a robust case with substantial evidence​
Follow digital footprints of criminals to identify them and assess the magnitude of their exploits​.
Visualize the patterns as they emerge and pivot between the relevant nodes to ensure positive identification of persons of interest​.
Ensure the results of an investigation and contribute to the prosecution's efforts​
Safely share Maltego live graphs with internal and external teams​.
Use automatically generated reports to reduce time spent on reporting.
Featured Data Sources
Simplify and expedite your investigation by seamlessly integrating your case and evidence management systems, OSINT and forensics data.
At the German Federal Criminal Police Office, we started using Maltego in 2016 and have kept adding more seats ever since. We consider Maltego as an indispensable tool to fight crime for the new generation of policemen.
Mirko Manske
German Federal Criminal Police Office (Bundeskriminalamt)