You have been redirected from paterva.com. Maltego.com is the new home for all information regarding Maltego products. Read more about this in a message
from the Paterva team
and in this
blog post
and
FAQ
.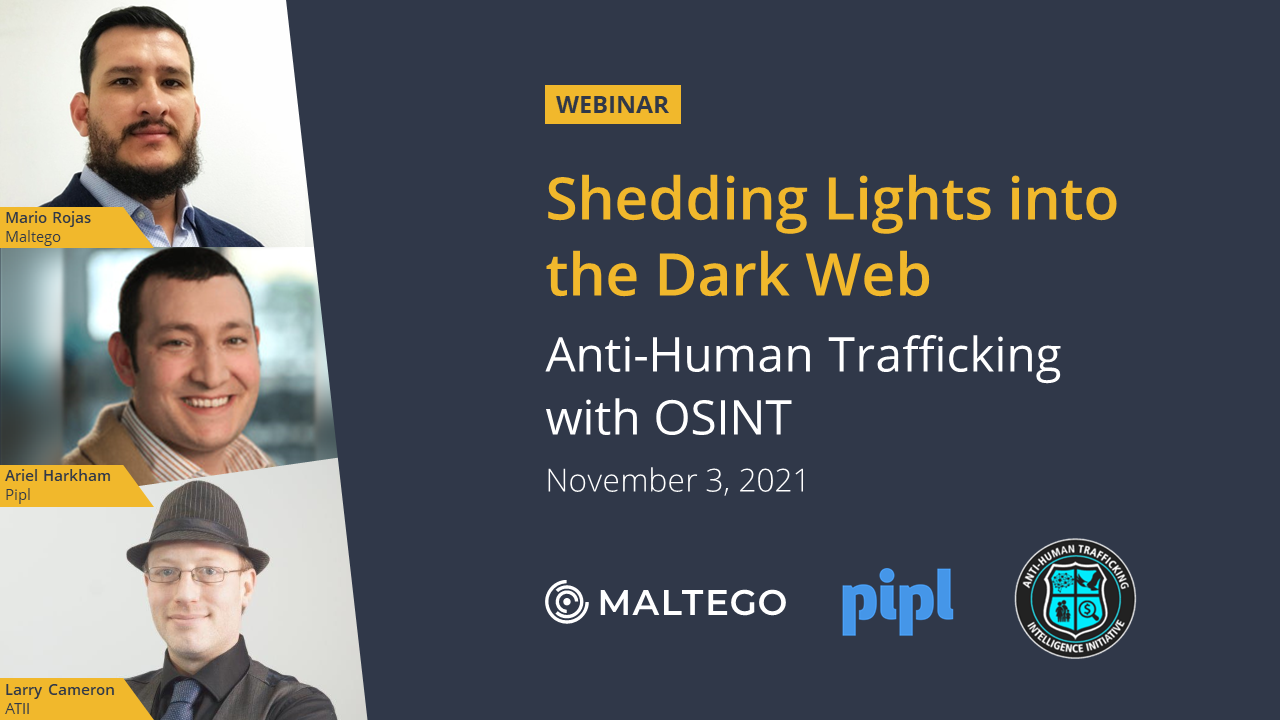 08 Nov 2021
Shedding Light into the Dark Web: Hunting Malicious Actors with OSINT and Link Analysis
This webinar explores how to leverage Pipl 's powerful identity database, ATII Hades Darkweb Intelligence , cryptocurrency intelligence, and Maltego's visual link analysis to support anti-human-trafficking investigations.
Join Larry Cameron from the Anti-Human Trafficking Intelligence Initiative (ATII), Mario Rojas from Maltego and Ariel Harkham from Pipl to learn how the right data and visual link analysis help investigators, corporations, and law enforcement agencies to resolve cases and take down criminals faster!
Meet the Speakers 🔗︎
Mario Rojas is a Cyber Security Subject Matter Expert at Maltego with more than eleven years of experience in the Cyber Security field, specializing in risk management and threat analysis and is known for creative solutions that stem from his expert technical knowledge.
Ariel Harkham is the Vice President of Strategic Accounts at Pipl, specializing in Strategic Partnerships and Enterprise Sales. With more than 15 years of experience in advanced technologies, his areas of expertise include UX, data security, and big data. Ariel joined Pipl in 2013 and is one of our customers' favorite people to sit down with and have a cup of coffee.
Larry Cameron has 20+ years experience in the technology and cyber security industries. He is the Chief Information Security Officer at the Anti-Human Trafficking Intelligence Initiative (ATII) and an OSINT Investigator / Lead Cryptocurrency Forensic Specialist for the National Child Protection Task Force (NCPTF). He is a certified Digital Evidence Investigator (DEI), Mobile Device Investigator (MDI), Triage Investigator (TINV), Certified Cryptocurrency Investigator (CCI), CipherTrace Certified Examiner (CTCE) and holds over 50 other Industry, IT & Security certifications. He manages technology in multiple disciplines and works with local, state, federal and international Law Enforcement on Human Trafficking and Child Exploitation investigations.
Pick the right product and get started.