We're always trying to stay in contact with the Maltego Community via our blog articles, social media, and webinars. However, there is no better way to connect with investigators and Maltego supporters around the globe than through dedicated industry events!
The following is a list of events taking place in the coming weeks where you can meet our team, upskill in a workshop, or join our talks. Make sure you tune into our virtual and in-person presentations or come say hi to our team members if you're there!
Where to Meet Maltego on the Road 2021 🔗︎
Black Hat USA –Virtual training "Maltego Teeth Resurrected: Ethical Hacking"
DarkOps – Presentation with CipherTrace
Künstliche Intelligenz für die Arbeit von Polizei und Justiz – Presentation on analysis of Darknet and OSINT data
European Police Congress – Exhibition booth & participation in the "AI: Technology for Security Authorities" forum
Black Hat USA 🔗︎
July 31– August 08, 2021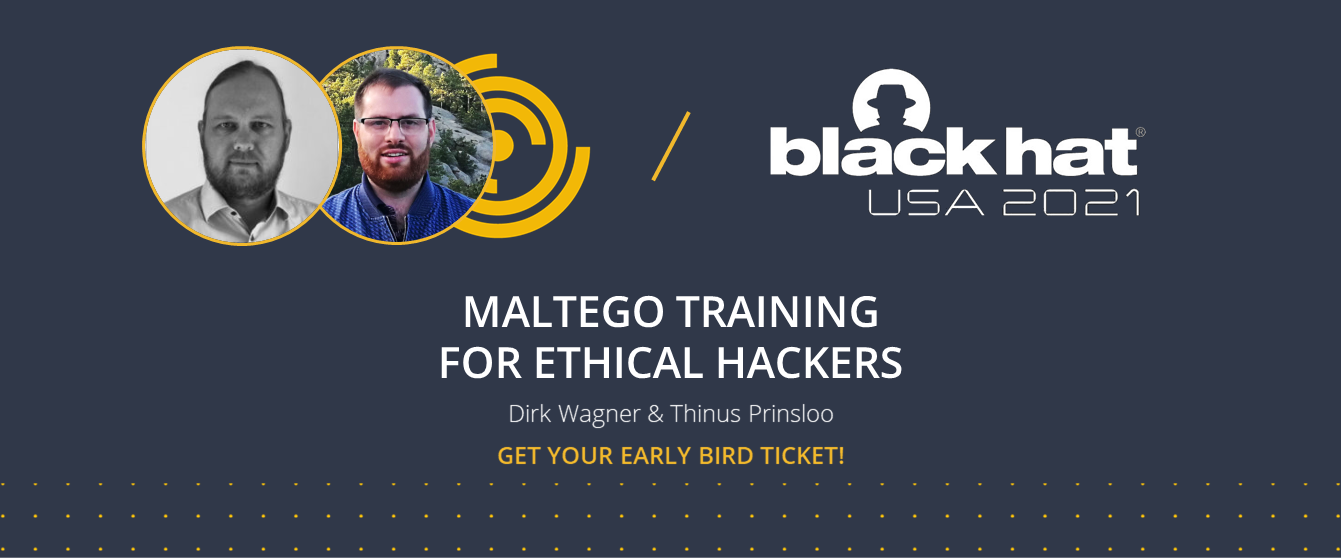 The 24th edition of the Black Hat USA event, this year's session will be delivered in a hybrid format (online & in-person). We're thrilled to have been chosen to deliver the Virtual Training "Maltego Teeth Resurrected: Reconnaissance, Exploitation, and Visual Pattern Recognition for the Ethical Hacker" at Black Hat, a staple of the Cybersecurity community. This is a 2-day course that will be packed with knowledge and hands-on exercises to help pentesters, hackers, and security personnel from many areas hone their skills and make day-to-day at work more productive.
Why Maltego Teeth? The original Transforms were very popular during Black Hat 2013. Recognizing how important they are for the community, we decided to bring them back to life by upgrading and modernizing them. They now contain many of the old integrations and a few new tricks, as well as support for Python 3 to enable Maltego to switch from passive to offensive mode and require only standard Kali tools and a few hacky Python scripts.
There are still some spots available, so hurry up and make sure to grab a seat before they're gone!
DarkOps 🔗︎
August 09 – 11, 2021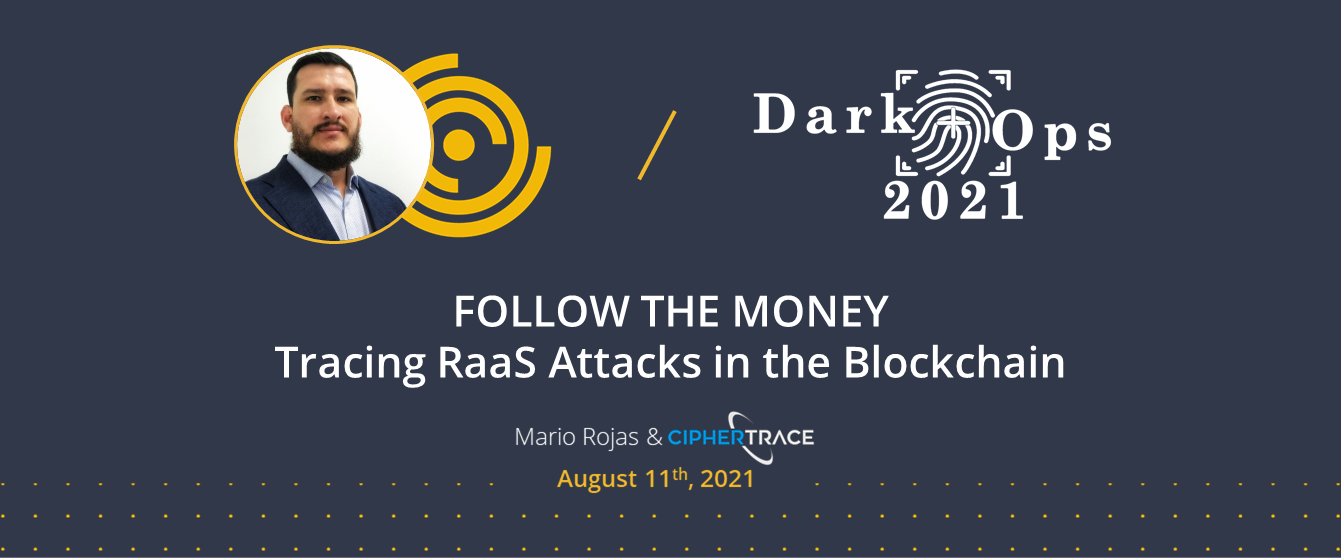 We are very excited to be sponsoring the high-technology forensics virtual conference organized by the Center for International Cyber Intelligence, which will deep-dive into the latest investigative technology trends. We will also hold a presentation with CipherTrace on August 11th at 10 am EST titled "Follow the Money: Tracing RaaS Attacks in the Blockchain", so make sure to tune in and let us know your thoughts on the topic!
The conference is free of charge and open for registered Law Enforcement and InfoSec professionals as well as members of Academia. Check out the rest of the schedule and register now. We look forward to seeing you there!
Künstliche Intelligenz für die Arbeit von Polizei und Justiz 🔗︎
September 01 – 03, 2021
This event is part of a series dedicated to the creation of spaces that address specific areas of interest for law enforcement and related government organizations. On this occasion, the different representatives will be exchanging ideas and learn about the current and prospective state of artificial intelligence in the context of law enforcement and government work while networking in Siegburg, Germany.
If you're in attendance, make sure to check out our presentation on September 2nd titled "KI-gestützte Analyse und Visualisierung von Darknet-und OSINT-Informationen", which is German for "AI-supported analysis and visualization of Darknet and OSINT information". Have a look at all the event information and get your tickets before they're gone!
European Police Congress 🔗︎
September 14 – 15, 2021
Taking place in Berlin since 2003, the annual European Police Congress is the largest of its kind in the European Union and is dedicated to decision makers from police forces, security authorities and industries.
The topic for this year's edition is "Europe in crisis mode: legitimacy – leadership – equipment", which strongly references the different problematics that originated with the COVID-19 pandemic, while still keeping security issues that were relevant prior to the crisis on the agenda.
Make sure to visit our booth on the C Level (right outside the main auditorium) and to attend our presentation at the forum "AI: Technology for security authorities" which will take place on September 14th at 11:45. Don't forget to check out the full event's agenda and register to join us in Berlin!
Couldn't Find an Event Near You? Stay Tuned! 🔗︎
We look forward to meeting you in-person and online in these upcoming conferences and more future events to come!
Don't forget to follow us on Twitter and LinkedIn, and sign up to our email newsletter to stay updated on the events we will be attending.
Happy investigating!